Clementine Collective: technical and sustainably produced soft toys
"The Seamless Source team has been incredible to work with since day one in my journey. I had been working with another manufacturer and was not satisfied with the work, and when I found Seamless Source they connected me to an incredible production team. We were able to work through sampling and many technical details together to perfect our knit doll line. Our dolls have many complex details, and Seamless Source was able to ensure the quality of my product was flawless from the tech pack, to the production, and to quality checks. Without Seamless Source, my business would not be where it is today and I highly recommend their entire team." – Heather Mirosav, founder of Clementine Collective
–
Designed to make a difference, Clementine Collective is a childrens soft toy brand specialising in ethically made sustainable knit dolls with the focus on inspiring love and joy, while making a positive impact on the world through helping a global cause.
These dolls are lovingly created using natural materials that are non-toxic, to make them safe for new born babies and children to cherish. They give the pleasure of play and support the love for learning to children in need worldwide.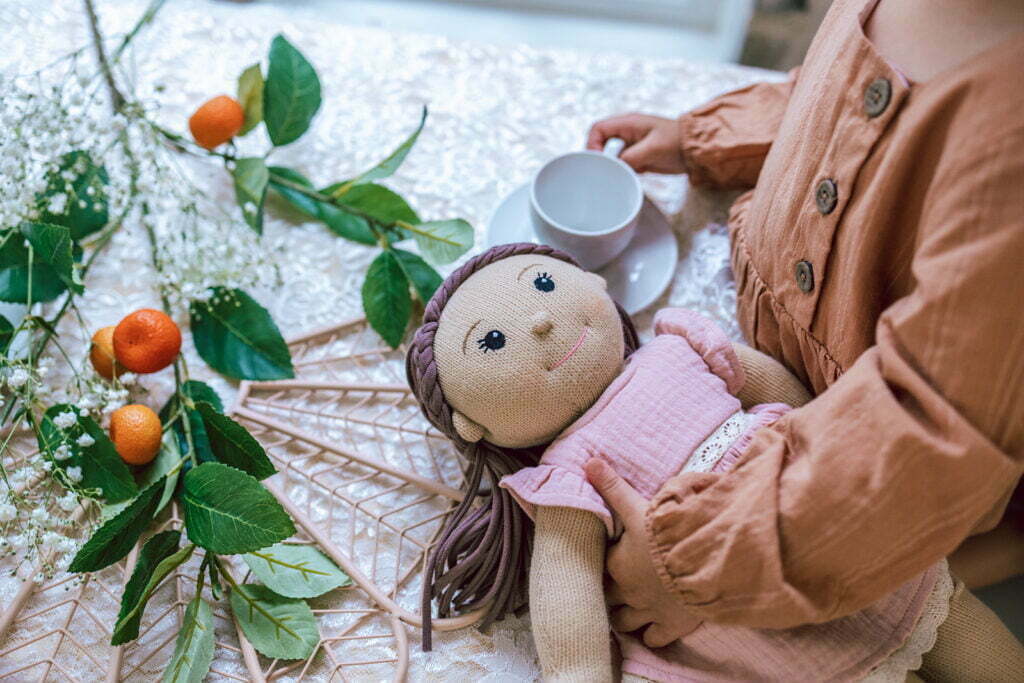 Founded by Heather Mirosav, the brand strongly believes in three key values; ethical production, sustainable sourcing, and supporting global education – as part of their mission. Working with Seamless Source, we helped them stay true to their values and the brand successfully created their high quality products to exactly how they envisioned.
The inspiration behind Clementine Collective
The idea for Clementine Collective came when Heather wanted her own daughter to experience the joy of owning a knit doll, like she had as a child with a doll knitted by her grandmother. After managing to source someone local to knit her vision, a mass of fascination ignited when people caught sight of the doll – everyone wanted one for their own child.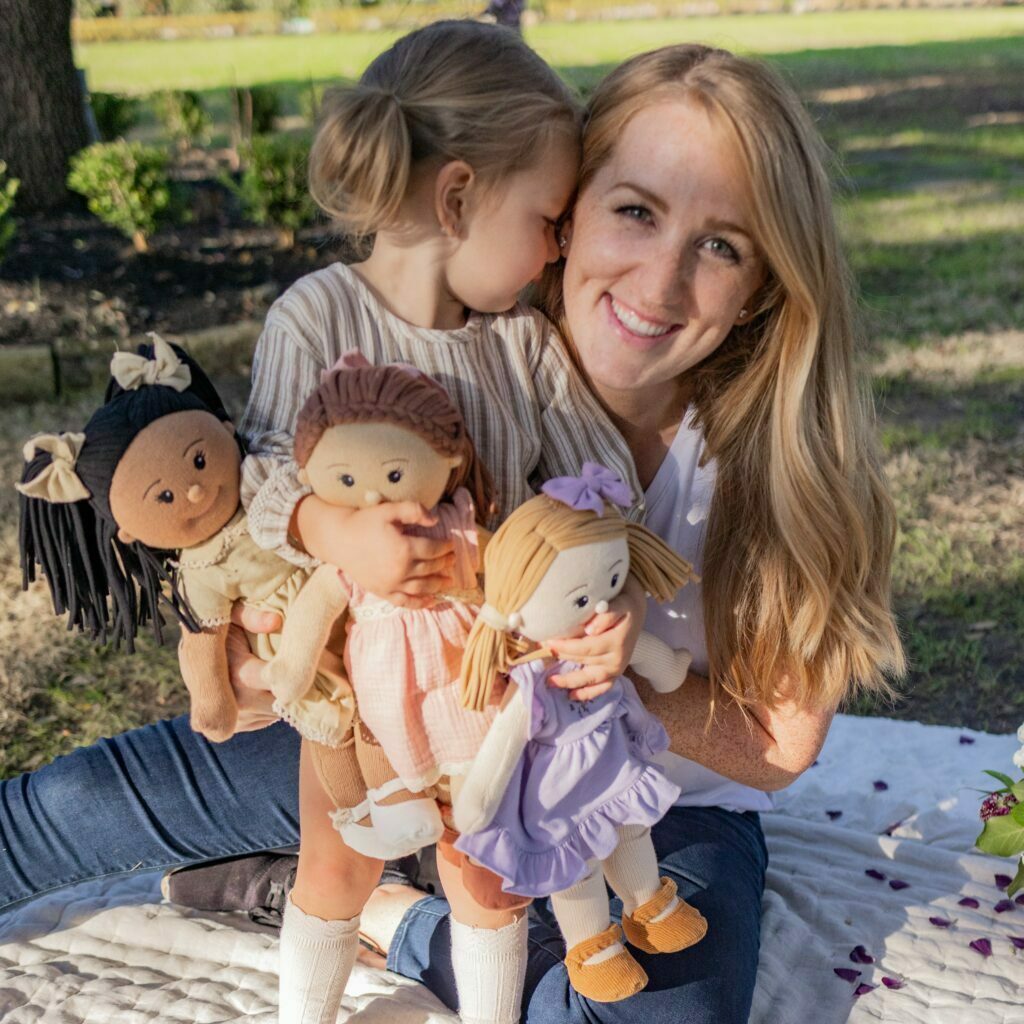 It was this interest that prompted Heather to pursue the idea of spreading love and learning through dolls; as the incentive to make the world a better place for future generations was important to her.
Positive impact
With the desire to help children learn, play and have happiness, Clementine Collective are partnered with School the World. Their mission, together, is to make education accessible for every child – as it is reported that '72 million primary school children will experience learning poverty' (Clementine Collective). Each Clementine doll will help provide scholarships for children worldwide to stay in education and positively transform their future.
Having these brand values set and product ideas drawn up, they were ready to take the next steps. As this is a complex and technical product to create, they just needed to find the right manufacturer to deliver their concepts.
How Seamless Source made this happen
Clementine Collective reached out to Seamless Source after they had experienced failed attempts through other suppliers who couldn't fulfil their desired product range. Our industry expert team was unfazed by the challenge and understood the complexity of what was needed – giving the brand confidence in our services.

Wanting to do our best for Clementine Collective, our operations team swiftly developed a clear supply chain strategy to get the project on the road. Ensuring Heather could follow the process with ease, thanks to our order management system within the Seamless Source platform.
Seamless Source also has an extensive list of sourcing connections around the globe so we can choose and match the most suited suppliers to even the greatest technical tasks. With tech packs already completed prior to joining our service, we selected one of the best manufacturers in Sri Lanka to create the product.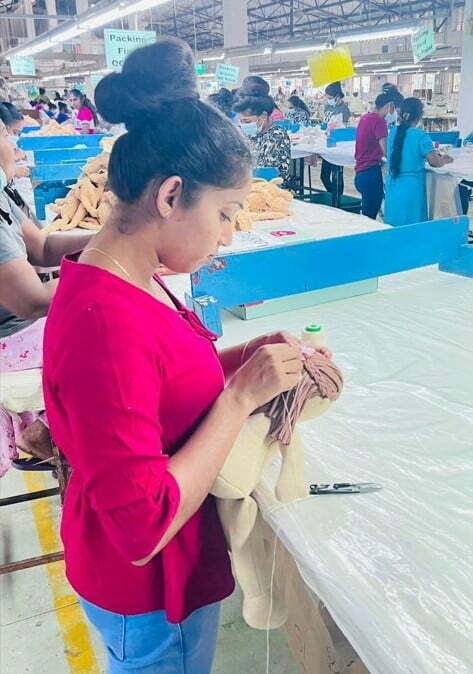 Our team quickly discovered the tech pack specifications were not proportionally correct and showed this through a made sample to the brand so they could understand the issues. In order to resolve this, we communicated our expert opinions and a new sample based on these was developed at Heather's request – this was a success.
Working closely with the brand, a few more sample rounds were made to get the first knitted doll perfect; checking into the details of every aspect in the doll's appearance, functionality and safety features, since the product is intended for all age ranges. Including improving the choices of materials, lace pattern and design for the doll's fashion. Once Heather was happy, bucket dyes were tested to imagine what the dolls would look like in their desired colour swatches and materials were finalised; opting for the Premium Natural Cotton and Hypoallergenic Polyfill filling.
It was crucial for the brand to have this product embody everything that they envisioned. Even while the order was confirmed, further adjustments were requested to change the doll's body pattern and our team successfully made negotiations to make this happen. Once the pattern was changed, samples were submitted within weeks and production was approved to start.
Successful results
The development of this knit doll set the ideal blueprint and due to our seamless service, Clementine Collective began developing two other knit dolls – even before production had been completed for their first doll – having the same body construction, but with different shades, dresses, shoes and hair designs.
Happy with the results, these dolls are projected to be a successful order. It has been a joy to work with Heather and we're proud to have created these wonderfully intricate soft knit dolls for her fantastic brand.
Seamless Source will continue to work closely with Clementine Collective and we wish them great success ahead of their launch on 14th February 2023 – don't miss out!
You can check out Clementine Collective and pre-order their desired knit dolls here: http://clementinecollective.com/