DUSANNA: Ethically made high quality vegan leather products.
As someone who is passionate about sustainability, it was important for me to find suppliers who shared my values and could provide high-quality materials. Seamless Source not only helped me find suppliers who met my criteria, but they also provided valuable guidance throughout the entire process. They were responsive to my needs and provided regular updates on their progress. Thanks to Seamless Source, I was connected with highly skilled ethical artisans to create my product range. I highly recommend their services to anyone in the fashion industry who is looking for a trustworthy and efficient sourcing partner. – DUSANNA
–
DUSANNA is an Australian vegan leather bag brand founded and created by Mikayla. Its focus is to bridge a gap in the market and offer stylish sustainable bags and accessories with realistic practicality that's affordable for everyone.
Aiming to save you time and money, the brand puts forward a unique line of products – including 'The Everyday DUSANNA', 'More Clutch', and 'DUSANNA Organisers' – these have sections and zip compartments for everything you could possess. Allowing you to find your everyday items easily and eliminate frantic rummaging (we all know the struggle) so you can spend more time doing the things that are important.
Through working with Seamless Source, DUSANNA realised their full potential and capabilities as we helped to create high quality products to exactly how they envisioned; while reinforcing the brand's ethical and sustainable standards.
The foundations of DUSANNA
DUSANNA began when Mikayla found a huge gap in the bag market. Purposeful, durable and useful bags and accessories were severely lacking, and so she targeted this need for better products.
Mikayla's vision is to create bags and accessories, for people of all ages, which are durable with enough sections and zipped compartments for practicality – especially suiting the needs of the seasoned traveller or occasional tourist. While setting the brand's values for good quality products which are made ethically and sustainably, reducing waste for consumers.
A sustainable future
DUSANNA believes that we all have a responsibility to protect our world, and to ensure we make a sustainable future for the next generations to come. That's why in all aspects of the businesses operations, from the supply chain, to the shipping processes and sustainable packaging, they're proud to take considered measures for the environment.
With their ethical and sustainable values set, the brand desired ethically sourced and manufactured vegan material for their products. As well as reduced waste consumption in the supply chain wherever possible.
So with their product range imagined, DUSANNA just needed to find the right manufacturers to bring their bags and accessories to life.
How Seamless Source took care of DUSANNA
DUSANNA came to Seamless Source knowing we have an extensive list of global suppliers and trusted us to pair the brand up with manufacturers that could supply ethically and sustainably made products. As the brand is based in Australia, it is often difficult and expensive logistically to visit overseas manufacturers.
After speaking with our industry expert team, we understood everything that was required and the complexity level in creating their desired product range. With an efficient supply chain strategy put in place, which could be easily followed via the Seamless Source platform, the production journey could commence.

The first step was to help finalise their designs before moving onto the sourcing of materials. The material needed was vegan leather and this has special requirements which our selected supplier was able to fulfil. This had to be high quality, durable and sustainable in order to fit the brief.
Once happy with the final choice of materials, it was time for the sampling stage. During this period, several changes were made to improve the products before bulk production was approved to begin!
Our operations team had found the perfect production source to match DUSANNAs values, proving she was right to trust Seamless Source. We chose a good quality Artisan workshop in Sri Lanka that meets all the ethical requirements to create the products; and these committed Artisan workers are highly skilled in their craft. DUSANNAs bags are all made partly by hand, making them carefully curated and unique items.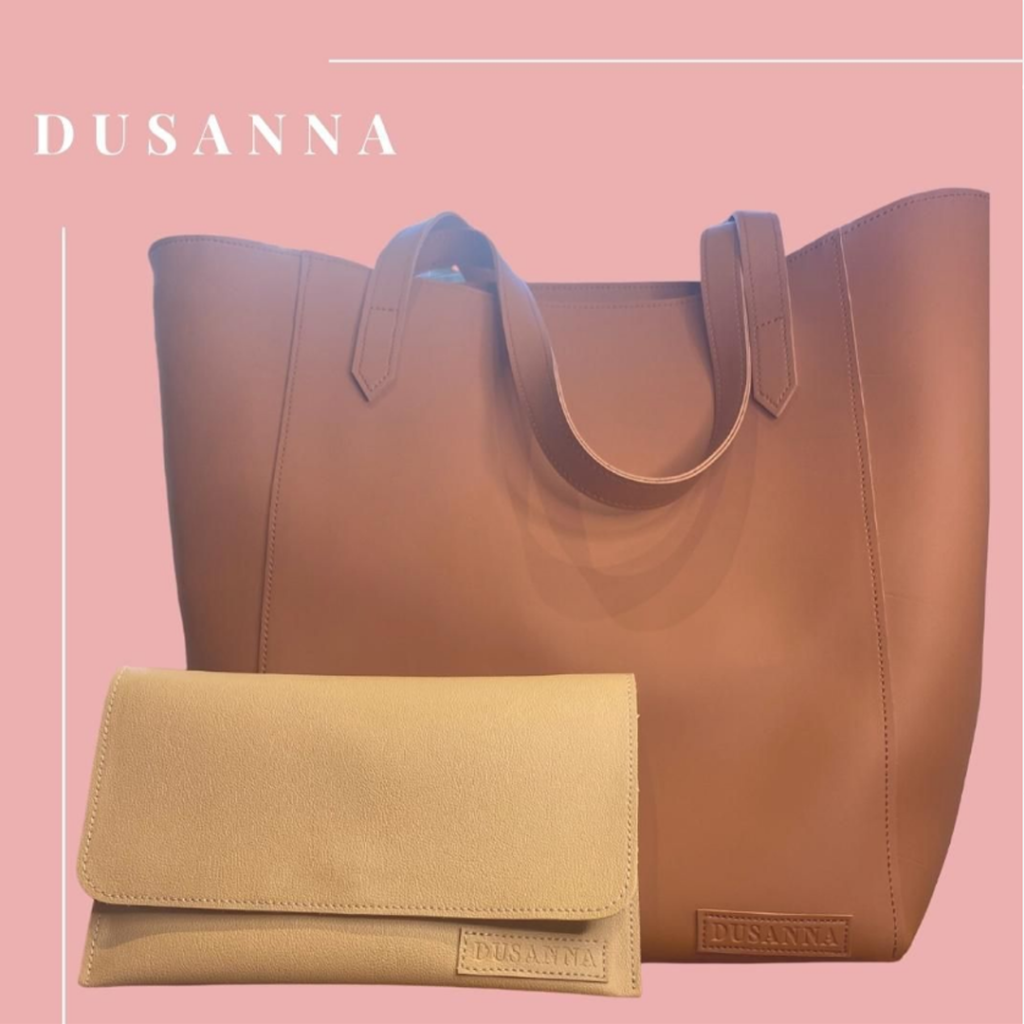 Success
This production journey with Seamless Source presented Mikayla with the perfect bags and accessories that she had dreamt of. We successfully created a variety of high quality vegan leather styles, which were carefully curated with durability, practicality and sustainability in mind – and her customers love them!
These unique products elevate above the rest in the bag market, and we're really excited to support DUSANNAs development and watch the brand scale-up to its greatest potential.
You can check out DUSANNA's chic bags and accessories line here: https://www.dusanna.com.au/