Many fashion brands have started to pick up that Tiktok has incredible potential when it comes to marketing – with the possibility of going viral so accessible with only a couple hundred followers and the right hashtags, and the growth of the Generation Z consumer that spends hours a day scrolling through the platform – there are so many ways that Tiktok can be utilised to grow businesses.
With over 800 million worldwide users (and that number growing every day) – fast-fashion and designer brands have been capitalising off of this within their marketing strategies. There is no shortage of content being created with the aim of capturing new consumers.
Brands on Tiktok
An example of a mainstream brand that has been successful on Tiktok is Gucci, using their already existing large platform to grow their Tiktok presence.
Gucci has built a successful Tiktok account by keeping up to date with trends but still adding their own twist to it, they utilise a mix of influencer marketing including both celebrities and Tiktok influencers, as well as more organic content including stories, personable and relatable videos.
They also balance this well with their product promotions and do not focus too heavily on getting people to buy specific items. They invest in paid ads as well but make them stand out with intriguing videos that get the viewers to stay and watch. This makes it more likely that they will eventually click through to buy.
The algorithm
A key feature on Tiktok is the view count, with a focus on getting people to rewatch videos, meaning that marketing should be kept short and sweet. Minimal heavy branding and relatable, sometimes even comedic content leads to customers wanting to keep watching.
Some brands have a hard time grasping how to attract customers in the right way, not quite understanding the algorithm. The Tiktok algorithm is extremely personal, and if you miss the target market you are aiming for then it is likely that you will not reach the desired audience.
It also takes time and patience, and sometimes brands that have a following elsewhere do not achieve the same success on Tiktok. This can be for multiple reasons – one being that they do not post regularly enough in order to grow.
For example, small sustainable business ByMeganCrosby that includes extremely viral friendly designs with bright fun colours and patterns evident through their Instagram success does not have success on Tiktok – with only 1 post and under 40 followers.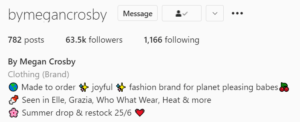 Independent brands
One example of an extremely successful retailer that has Tiktok to thank for their business becoming so successful is Hissy Fit clothing run by Danielle. She started promoting her business on Tiktok during the Covid-19 pandemic and went viral almost instantly – transforming her almost unprofitable ravewear brand into a more casualwear selection that people loved.
Danielle's personal and transparent approach to Tiktok is the reason the brand is so popular today – she often vlogs her day-to-day activities including factory runs, sample making, and packing and she talks a lot about the sustainable aspect to the business including being manufactured in the UK with all deadstock fabric.
The Hissy Fit account often features Bill – their primary garment worker and shows all the ins and outs of running a fashion business that many viewers find refreshing and interesting.
Keep it authentic
It seems the key takeaway from these examples is that in order to be successful on Tiktok, you have to promote an authentic and personal front – the best videos being the ones with humans behind the cameras.
Tiktok does not even require the most professional camera work (although it can be beneficial) and brands can incorporate their employees and their customers into their videos – some of the most successful ones being reviews and hauls!
Keep it relevant
To stay relevant on the app, brands should always be staying up to date with everything happening. Oftentimes by using current hashtags, popular sounds, and trends on the app you can grow your engagement quickly and maintain your audience.
It is also useful to have people who understand the prominent Generation Z audience help with ideas, as many brands are often slated on the app for being out of touch and this can decrease the effectiveness of any adverts or promotions being worked on.
Most importantly though, Tiktok is about having fun. There are no hard rules to follow like Instagram to maintain engagement, and there is no need for formalities such as on LinkedIn. The app is a place to enjoy, so that should be at the heart of everything you do.
If you are interested in reading a range of articles with a fashion focus, head on over to our blog!