The next in our series of interviews comes from fashion brand consultant Elizabeth Stiles. Elizabeth runs her own consultancy, helping small to large fashion businesses with the running and optimisation of their company.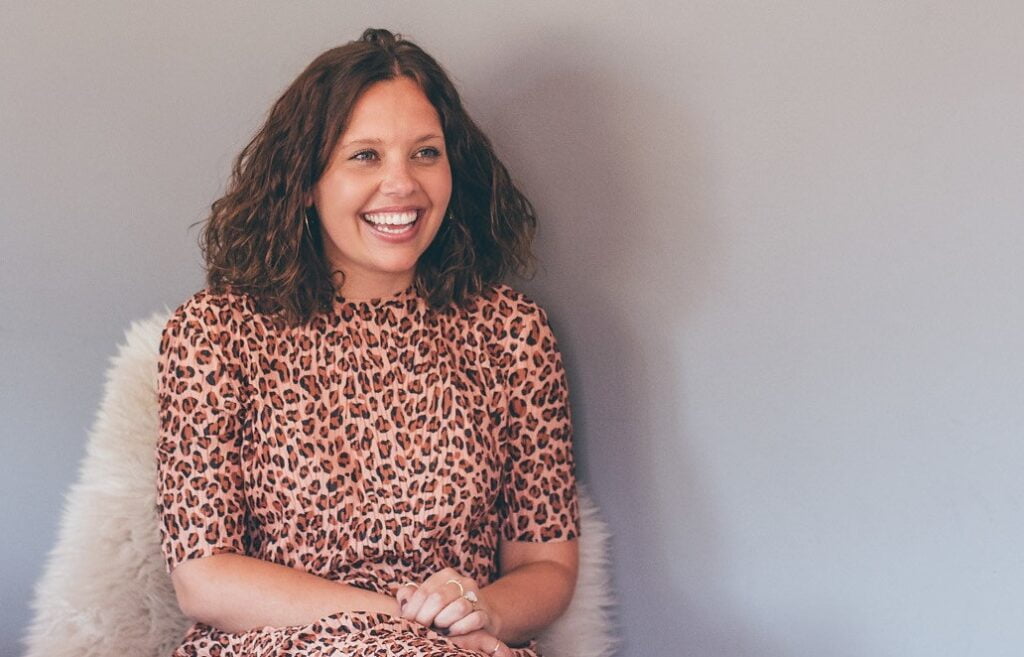 Find out more about Elizabeth and her brand below…
Can you tell us a little bit about yourself!
Hi, I'm Elizabeth Stiles (with an I), and I am a fashion brand consultant. I work with independent brands on their mindset, manufacturing and marketing.
My background is in fashion buying and I've worked for suppliers as well. So I've sold to buyers and bought from suppliers and worked for lots of different high street brands such as Next, Warehouse, and Urban Outfitters, etc. So I have had some really interesting experiences, such as cost negotiations, delivery handling, range building, designing, trend forecasting, shopping around the world… all very glamorous.
In 2018, I could just see this huge uprising for small businesses and entrepreneurship. When I was in the office, big brands were all sending us inspiration from these small businesses, and I thought if you're looking to them instead of the catwalks, that's where it's at! So I want to be where it's at. I left my job in 2018 and never looked back.
Did you study at University?
I studied fashion retail buying. When I went to do the course, nobody had actually graduated from it, I was only the second intake – it was a brand new course. I remember when I was at university reading in the Metro newspaper that people are taking more and more 'Mickey Mouse degrees' such as fashion, retail and buying. Which was a bit of a kick in the teeth, but I'm doing it all right now.
The massive thing when that influx came of all these new courses being introduced, even aside from fashion courses, was that there were some people looking down on them to begin with. I think that's something that I try and talk about a lot on my Instagram – people will say, oh, you can't study fashion? And it's like, yes you can, and I'm here to help you.
The fashion industry is the third-largest industry that brings in money to the UK, and so it's something to be taken seriously.
What is your most important piece of advice for someone wanting to start? Do you solely focus on fashion brands?
I think as I've grown, it's become sort of a fashion and lifestyle business. I might work with people who sell products such as wall hangings, scrunchies, and necklace charms. However, the majority of it is fashion.
My best piece of advice would be to assume that it's going to work right from the beginning and take it seriously yourself. Some feedback that I have from people is that it feels a bit embarrassing to say I've got a business, but then people aren't taking it seriously, and I want them to.
'What if nobody buys it? What if nobody is going to be interested? What will people think?' It's just an endless stream of negative chatter inside your mind, and it's not great when we're trying to step outside of our comfort zone and start a business.
When you realize that you can take control of that voice inside your head and assume the best is gonna happen, I think the energy that you put into it will be vastly different. For example, if you're emailing a buyer to get your products stocked in-store, and your mindset is that they're never going to read this, what kind of effort are you going to be putting into that email?
But if you're excited about the prospect and want the buyer to love the products, then the level of energy is going to be so different, you're going to want to make it look pretty, you're going to want to show all of the benefits of stocking it. And so when they're reading it, one version will stand out over the other.
What's the importance of ensuring your brand has a clear story and spreading it out across all your marketing channels?
If there are 73 new e-commerce brands that start every single day (as it's easier than ever) what is going to make you stand out is you and your story.
Some common reasons why people want to start a brand are because they couldn't find what they were looking for on the market and they want people to feel good about themselves and their clothes. Unless you're a robot, that is why everybody starts a business, because you want to help people find what they're looking for.
Everyone has different reasons – but you need to make your reason stand out. When you talk about your inspirations, it gives you a topic of discussion other than just flogging the product itself. If you can start telling that story and connect with customers on a human level, they'll connect with you and then buy from you.
The aim really is to get more people to know you, like you, and trust you. It's just all about relationship building.
How do you maintain a work/life balance?
I think it's super important to maintain a good balance because when you work for yourself, your energy is your greatest resource. If you burn yourself out, you're done. You've got no income, because you're not working. You really do have to put a bit of a bubble around you to only take on so much of other people's stuff.
I'm quite regimented when I work from home, I had a timetable in my calendar and had to stick to it. And when you do that, you actually realize you don't need to be working 24 hours of the day. You can organise your time – for example 'I need to check my emails three times a day, let's put that in the calendar, I need to eat my lunch every day, let's put that in the calendar, I need to pack orders, or to speak to clients for X number of hours, and then you start putting it all in.' Then you can really enjoy your time off guilt-free, because you know that everything else is blocked in.
Would you usually work with startups or established brands, or has it been a balance of both?
I would say in my courses and my group coaching, that's where a lot of the startups come in, because it's a much more accessible way of working with me price-wise. And then the one-to-one stuff is where the more established brands are. Because, not even just down to price, but the amount of value I can provide to you within an hour, if you're literally just starting up, is quite limited.
So I always recommend people join the course, come and do the group coaching, and learn from other people. When you're new to fashion or new to starting your own business, you need that community of people around you to support you through it. The more knowledge you can get, the better it will be and the easier it will be as you go through.
What are the differences in the pain points that both are facing?
When businesses are starting up, I would say that people are very worried about what people will think, about feeling lost, or feeling like they're winging it. They feel they just don't know what order to do everything in, there is so much terminology in fashion that it just feels like you're learning a whole new language. So most people just need some clarity and a bit of handholding throughout that process.
But the girls or guys who are further down the line, I would say their challenges are more like where their business is starting to bottleneck. And usually, it's with them. It's mostly about relinquishing control over certain areas of their business that they need to start hiring new people for, they need to start delegating, they need to start outsourcing their manufacturing or their warehousing or their distribution.
Still, a lot of mindset stuff comes in as well, you would think that it starts to kind of disappear as you grow. But if anything, the more eyes that are on you, the more pressure there is, if you've had like a really good successful collection, there is a pressure to do that again and keep up like your as your sales grow, your expenses tend to grow in equal measure. And so then there's more pressure to pay the expenses to get the more sales in. I think the people who are more established just tend to think that it's all going to collapse overnight. It's the mindset stuff that still goes on further down the line.
What is your idea of sustainability? Are the brands you work with heading towards a sustainable path?
This is one of my favourite topics. I don't actually recommend you call yourself a sustainable business because it's such a grey area. When you actually Google what sustainable means – it's about the longevity of something, which is not what people use that word for these days.
If you use vegan leather over cow leather, is that sustainable? Or is it not? Because vegan leather is a 2021 word for plastic. So we're allowed to use vegan leather, but we're not allowed to use polyester. What's the difference? And if you get organic cotton T-shirts made, but then you fly them over from China, is that sustainable?
They're not, you know, and there's so many different things. And so, I would just like to scrap that word. You might want to use it within your website because people do still search that word, but I wouldn't own 'sustainability' as your USP, because it is just asking for people to tear you down.
You need to get more specific, like, are you plastic-free? Do you use organic materials? Do you pay people fairly? Do you try and reduce your water consumption? It's not as sexy to be a low plastic business, but it's better than just following the bandwagon.
Do you guide people to manufacturers?
Yes and no, when people are looking for a manufacturer, it's quite unlikely that startups are actually looking for a factory. They might be looking for a seamstress or a sample studio. And people sort of forget that there are those options to you before you dive straight into working with the factory. I hear it a lot that people have messaged factories but nobody's getting back to them, and it's because they don't want to work with you.
People aren't ready to buy 300 units, you're not ready to invest in them, the cost of it's going to be huge. I would recommend trialling a few different styles on a really small quantity to see if anyone even wants to buy it, test and then repeat and put that on a cycle, before going into huge order quantities.
How would you describe your process on personal branding and what would you recommend to anyone looking to start up their own brand?
I've actually just rebranded because I wanted to be very friendly, approachable, and kind. I've worked in the industry for a long time and I have encountered my fair share of people, and I don't want anyone coming into the industry fresh to think that you have to be a certain way. I want to be taken seriously as somebody that gives good advice in the fashion industry. So I try and find the balance between knowledge and kindness, I would say.
I also think people should always think about why they're starting a brand, making money is not a reason to start your own business. Because there are way easier ways to make money. You could go and get a job on double pay on a night shift.
Why is it that you want to start a fashion brand? What is it about fashion? So go back through and think of all the experiences that have happened in your life where you've been inspired, and decide what the medium of your business is.
Brands can come to me @elizabethstilesuk on Instagram. I would also say even if you start with me, Instagram suggests other people. There are so many people who want to help you within the small business community. There are tons of small business Facebook groups that you can just sit and watch and observe and learn. I also have a podcast called The fashion Feed – the reason I started that was to open the doors and show you how other people have done it and learn from industry professionals. Just be a sponge. That's what I would say even if you don't take any action right away. Just start learning and when you're listening, or watching or reading something will inspire you to take action. You just might not know what it is yet!
If you would like to read more in our interview series, check out our blog!