There are many exciting roles within having your own fashion brand; the design process, styling and creative direction of your fashion brand are just to name a few. However, there are some very important things you must consider in the process of producing your brands such as the garment labels! Although this isn't the most exciting process of the production stage, it is important to get this right to save you from having aftercare trouble in the future!
In the garment labelling process you must consider where the label is placed and what information is present on it, this includes; aftercare information and flammability information. You must ensure that you commit to the local regulations and laws by the Federal Trade Commission. The garment label requirements and regulations in the UK slightly differ to the US regulations. In this article, we will be focusing on the UK regulations:
1. Fibre Contents – Fibre content should be displayed clearly on the label. You will need simple information, including the percentage of the main 'fibre content' in your garment (e.g 60% cotton).
This is part of the Government's Textile Labelling (GTL) regulations. This also may be important for consumers to look on as they may be allergic to certain fibres and will use the care label as their form of information.
Remember that you may need to change your garment labelling if you are sending products outside of the UK, as the rules and regulations may differ in other countries. You can find out more information about garment regulations on this guide.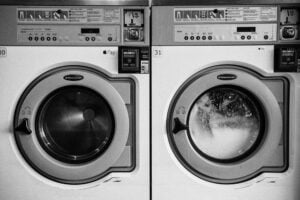 2. Washing and Aftercare Information: This is the second most important thing to add in your garment label. This isn't mandatory, however it will benefit your brand in the long term as customers will know how to take care of the product- this means that they're unlikely to refund it! These details may already be added in depending on your garment manufacturer, however you can discuss this with your supplier to ensure you have the necessary information on your garment label.
This information may include:
– The style of washing (hand wash or machine wash)
– Temperature of the washing
– Whether you can iron the product or not
– Whether you can tumble dry the product or not
– If it's dry cleaning only
– What colours you can mix the product with
Instead of writing this, you can use symbols to communicate each suitable message for your fashion product.
3. Country of Origin for Label: As part of trading regulations it is important you add the state of the country it was made in. For example; if you're product was designed in the UK but manufactured in India, you would need to put 'Made in India'.
4. Flammable Fabric: if you're products use materials that are more prone to flames, it is vital you add this information in, especially if you have a children clothing brand or night-wear brand. Either a wording that states you meet BS-5722 (which is the British Standard for flammability') or a short statement such as; 'KEEP AWAY FROM FIRE' – this is required to be in red and Arial size 10pt in capital letters.
5. Positioning: the labelling should be specified in your tech pack, however most clothing manufacturers will place the garment label inside a seam. It is important to identify the placement of the label in the production process as you want it to be easy to find but discreet from the outside.
Other Things to Consider…
The 5 steps given above are the most important things you should consider in your production of your garment labels. However, depending on your brand, you may want to include a product code. This may simplify it for the consumer who may be looking for a specific item for a friend and can refer to the product code (or some may call it a 'line number). Alternatively, you could use your logo if you have enough space on the label. This may be of preference as it is more visually pleasing!
If you would like some more tips and advice on how to master the design and production process, check out our article on '8 Key Steps on How to become a Successful Designer'.