Fashion e-commerce is essentially on an online store as an alternative to the good old bricks and mortar shop! The rapid increase of e-commerce fashion brands has created a high competitive marketplace.
This means it is important to ensure your brand stands out and is marketed exceptionally well. You can do this by assessing what your target customers want and knowing the tips and tricks of the trade for both fashion and online ecommerce business.
1. Identifying your Product
Course, the first step to building an e-commerce business is to know what product you're selling. This is a process that will take fairly long as you will need to target the consumer for your product, analyse what will be your best-seller and identify your surrounding markets and competitors.
Once you have mastered your fashion products, in theory you would have found a suitable manufactuer for you, for more information on this, check out our article
'How to pick a Garment Manufacturer'.
2. Doing your Research and Creating your Fashion Marketing Plan
The next big step is to undertake in-depth research of your competitors, this will help to formulate your business/ marketing plan. A business plan is ultimately a road map that helps bring your ideas and thoughts together all in one very detailed file.
You will have information regarding your customer profile, your finance and profits, your promotional plans, your contacts, your aims and objectives, your social media tactics and so on. Ensure you make it as detailed as possible.
To find out more information on this, check out our article
'How to Make a Marketing Plan for your Fashion Business'.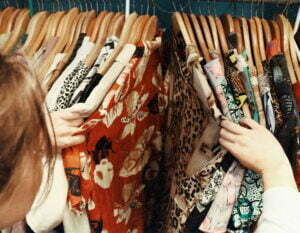 3. Bringing your Fashion Business to Life
At this stage, presumably you will have at least an idea of your fashion brand name and logo. If not, you will need to ensure you have mastered the name of the brand, the logo for it and create a 'slogan' and 'about us' written piece.
If you're not as savvy on Adobe Photoshop, you may want to contact a graphic designer to help you create your fashion logo for you.
Another top tip, when you have created content and material for the creation of your fashion brand, ensure you have everything backed up to a hard drive- this will help avoid any future problems.
Also ensure that your logo is in PNG format for when you upload it to your online store, as this looks more professional.
4. Getting to Depths with SEO
SEO (search engine optimization) is essential to know before starting your online store. This will help structure your pages on your website for Google and other search engines.
By mastering the likes of SEO, you will give your brand a clearer and admirable recognition on all top search engine platforms. If you want to find out more information of what SEO is, have a read through our article
'What is SEO and How can it Help your Fashion Brand?'
5. Building your Online Store (E-commerce Site)
With a clear understanding of your fashion brand ethos, product, market and SEO, you are now ready to start creating your online store!
Online Web Builders
You may choose an online store builder to do this. You will firstly need to sign up to an ecommerce plan to connect to 'payment processors'. This will allow you to take payments from customers when you sell your fashion products online.
The great thing about online store builders is that a lot of it is set up for you (such as boxes, buttons and layout), therefore you are unlikely to face technical issues. However, depending on your aim and business plan, you may want more creative freedom.
Another pro of online stores, is that they provide you an SSL certificate. This certificate provides secure communications between your fashion website and your customers internet browser. Essentially, it means that all credit card transactions and data transfers are safe.
Choosing a Plan
Most website builders will have a range of plans for you, all of which offer different pros. The more premium the plan, the more options you will have regarding templates, storage and the ability to get rid of the website builders logo ruining your web page. The more you spend, the more you get and always suggest going for the best packages.
Choosing a Domain
It is vital that you have your own domain name paid for, that represents your brand. This looks much more professional and it means you can take full ownership for it. Most of the time, you are able to purchase your own domain name through the website builder that you choose, but alternatively you can purchase it through a third party.
Get Creating
Once you have mastered what website builder you want and domain name you purchase, you can get to the fun creative part! This includes choosing the right template for you, uploading your logo and all of your products alongside the product information.
With this in mind, some top tips we suggest you take on board is that you keep your brand ethos throughout the website- too many changes may make it look unprofessional and untrustworthy.
We also suggest keeping the layout clean, especially with your product page. Images need to be clear and have a 'zoom' function so that customers can get a close up view of the product for small detail.
Considering creating your website using a grid format, this is so that you can ensure everything is spaced out evenly and this will overall make it look more professional and welcoming to the eye.
Information regarding the product is also very important. This will include the fabric it is made from, the sizes available, the size the model is wearing, a description of the colour, style advice and so on.
6. Final but Important steps
As mentioned before, undertaking SEO tools is important. Depending on the web format you are using, you will need to mention keywords that relate to your brand.
Entering them in meta description but also your links and tags is important, this will ensure you come up near the top on search engines. For example, if you are producing an online swimwear store, you may use keywords such as 'swimwear', 'bikini's', 'swimsuits'.
Crosslinking is also very important. To do this, ensure your pages link back to one another (i.e having a link back to your home page and/or making your logo clickable so that is goes back the homepage).
This will make search engines such as Google happy, and also make an easier navigation for the customer. Many online web builders can help you build your SEO check.
7. How Chanodil can Help
With all this said, our service at Chanodil provides an excellent Platinum Package. At just £999 (as opposed to other markets who sell up to 5 times the price), we provide full on 24×7 technical and webhosting support.
Not only can we build your website for you (the layout, image uploading, content), we offer a range of additional support to help kick-start your online store.
If that is not enough, we also offer a 24-hour service of customer support to help with any technical issues. And fear not, you will still have your creative freedom in the creation of your website- any changes you want to make can be assisted by us.
In addition to all this, you'll also be able to manage your payment process by a click of a button, just by signing into your profile. With everything being handled on one easy-to-use platform, what's not to love? The Platinum package also provides you suitable links to garment manufacturers and suppliers that you will be able to liaise with through your profile.
A summary of the Platinum package:
– You will gain full ownership of your website to sell products on
– Receive official registration for your business
– Help with webhosting
– 24×7 technical support
– Management of payment process
– Domain name registration
– Build fantastic fashion manufacturing and supplying connections
If this is a service you are interested in, we are more than happy to welcome you, contact us for any enquires and we will get back to you immediately.
After all these steps are complete, your next big step will be promotion your online store. This is where you will refer back to your marketing plan. Ensure you use social media as your main tool and email marketing as a secondary tool- this will most-definitely boost your trafficking of web views.