We had a chat with founder of streetwear fashion brand Jheez Official, Jas Gill, to find out more about the birth of his successful streetwear brand and where it will take him in the foreseeable future.
What is the Jheez Official fashion brand?
Established in 2014, Jheez Official reaches out to both woman's fashion and men's fashion. The streetwear brand contains a variety of gym sets, T-shirts, hoodies, jackets and a variety of accessories including bags and socks.
In general, the fashion brand uses a variety of colour's, which vary from bright peaches and reds (in its' most recent clothes launches) to safer colour options such as black, wash denim colour's and white. Reaching out to both summer wear and winter wear, this fashion brand is the 'go to' brand if you're looking to fill up your wardrobe with both fashionable and functional pieces.
The brand has already gained many fashion awards, including the title 'Award Winning Business 2018' and with over 10k authentic followers on Instagram, we can definitely see the brand progressing even further in an even shorter amount of time…so let's get on with finding out more about Jas's brand and his future plans for it!
1. Firstly, tell us a little more about your fashion brand?
My fashion brand is called 'Jheez'. This expression fits perfectly with what my brand is all about. The Jheez Brand offers exclusive trend setting designs limited to only 50 units per design. We do this to keep an exclusivity feel to our customers and designs. We understand that everyone wants to be different that's why we only stock 50 units per design so we minimalize the risk of turning up to a social event and someone is in the same outfit as you!
2. When was it when you decided to start your own fashion brand?
I originally started the drawings for my designs back when I was 15 but set the brand up officially in late 2014 aged 17.
3. How do you feel about the current state of fashion?
The current state of fashion is crazy right now with lots of creative concepts allowing you to express yourself through your outfit. Fashion is very powerful because it allows you to make a statement without opening your mouth.
4. Why do you think many people want to invest in a fashion business, even those who don't come from a creative background?
Fashion is an industry that doesn't require a creative background because you can run with basic designs of clothing. Partner that with a solid business infrastructure and you can be successful. In this modern era your social media presence as a brand is a vital component to your success.
5. Have you come from a creative background or was starting your own fashion brand more of a business venture?
I don't come from a creative background at all. I studied Business Law at university so you could say I'm from more of an academic background. Originally I set up the brand to support me through my studies after constantly being declined for part time jobs.
Following the conclusion of my studies I have seen the real potential in my brand after participating in Pure London and Bodypower. So my ambition is to build the brand and run it as my full time career.
6. There are so many competitive brands within the world fashion right now, how do you make your fashion brand stand out from the rest?
My USP is the 50 units per design. This is a real hit with all my stakeholders, as it's a brave concept that not many brands follow. Most brands in the industry focus solely on best selling items then continuously restock that item.
Although this will bring in high revenues it can lead to brands facing stock control difficulty after reinvesting in the same products. It could lead to overstocking then having to reduce the price to sell the item.
Then the design looses its uniqueness because a customer could of brought it on the release date but then see the exact item for a fraction of the price. So it could discourage that customer returning again or make customers just wait for reduced items in sales.
By keeping it at 50 units I hold very little stock per design and sometimes the designs sell out within 24 hours, which allows me to reinvest and bring out more collection through out the year. My customers know that it vital that they act quickly when new designs are released because if they wait too long they miss the opportunity to own that design.
7. What are first and most important things to consider before starting your own fashion brand?
The most important thing to consider before starting a brand is to know WHY you want to own and run a clothing brand. This WHY must drive you forward no matter what challenge you face. A modern misconception is that running a fashion brand is easy and straightforward. I can honestly say it's far from it. It's stressful but I enjoy it.
8. What has been the most challenging thing you have faced so far when starting your fashion brand?
My most challenging moment was moving forward on my own after my initial investor pulled out of the brand. This was difficult because I had to refund her initial investment and start again. Not many people are aware of this challenge, as it was right at the beginning of the Jheez brand being set up.
But I can say this challenge allowed me to grow personally as a person and really see the potential Jheez has in the fashion industry.
9. What other obstacles have you faced whilst creating your brand and how have you overcome them?
Small obstacles occur on a daily basis when creating a brand. Some days you might feel like that you are not progressing but you need to find that why you are doing it all for and think about that. This should help overcome the daily obstacles.
10. What has been the most exciting part about building your own fashion brand?
The most exciting part about building your own fashion brand for me has to be when I see the smile on my customer's faces when they wear my designs. Or when I'm out filming content and people stop me asking for a picture with me. It's a real buzz to know that you are being recognised for your work. It makes the long hours worth it.
I'm also lucky to have a best friend (Anjum James Francis) who is into videography and photography so making content with your best friend doesn't feel like work.
I also have acquired another photographer friend through Anjum. Mohammed Ali who has also helped developed the brands content online. Having a good team spirit makes working models so much easier and our content comes out great.
11. Does sustainability influence any of your business decisions?
Sustainability does play a part in our business decisions but I feel once I reach a higher level I will be able to focus more business goals around sustainability.
12. How easy was it for you to find the right contacts to source fabrics for your fashion brand?
Despite my basic knowledge on fabrics from my time working in a clothing factory initially it was very difficult to find the right contacts for fabrics. However once I grew a bit and moved production abroad it has become a lot easier because now I'm constantly being sent new fabrics to try and test prior to production.
13. Can you go into more detail about the manufacturing process for your brand?
Yes certainly, firstly I create a design on paper transfer that onto Photoshop then send it off to the factory they give me options in relation to fabrics and ideas on how to really develop the design. They then send me a sample to try and test. If I'm happy then I give the go ahead for the design to be placed in production.
14. What important and useful lessons have you learnt along the way?
An often misconception is that your going to be successful straight away. Yes your designs might be the best ever but it takes time to make way into the market.
Your relationship with your customers is the most important relationship you need to keep healthy because the power of word of mouth can make or break your brand.
Some designs might not be as successful as you thought they would be but don't take it personally move on and make something else. The key is to be consistently bringing out designs. Then maybe one day that unsuccessful design will sell because your brand has grown and you are reaching new customers who actually like that design.
15. What sources would you suggest start-up fashion business owners should refer to?
There are a lot of agencies out there promising you the world for a fee. I strongly advise looking at alternatives first. Such as The Princes Trust Enterprise Program. This will give you an insight into going in life as a self-employed person. This is a fundamental part of building any brand or business.
Most universities also have departments to help you set up your own business. I went to Nottingham Trent University and they had 'The Hive'.
Agencies may be able to help you but you will incur high costs for there help but if you can afford it then go with it. Going to the two sources I have highlighted will give you base knowledge and will help you decide if setting up on your own is something you really want to do.
16. What would you advise to anybody who is starting their own fashion brand?
The best advice I could give anyone starting a brand is to START. The more you think about the more doubt will creep into your thinking. So my best advice is for you to just start and see how far you can go with it.
Putting this into context when I started the Jheez brand I was doing my content shoot with home made studio lights and using my living room space to create content for my website and social media. Now I'm going all over the world creating content for the Jheez brand.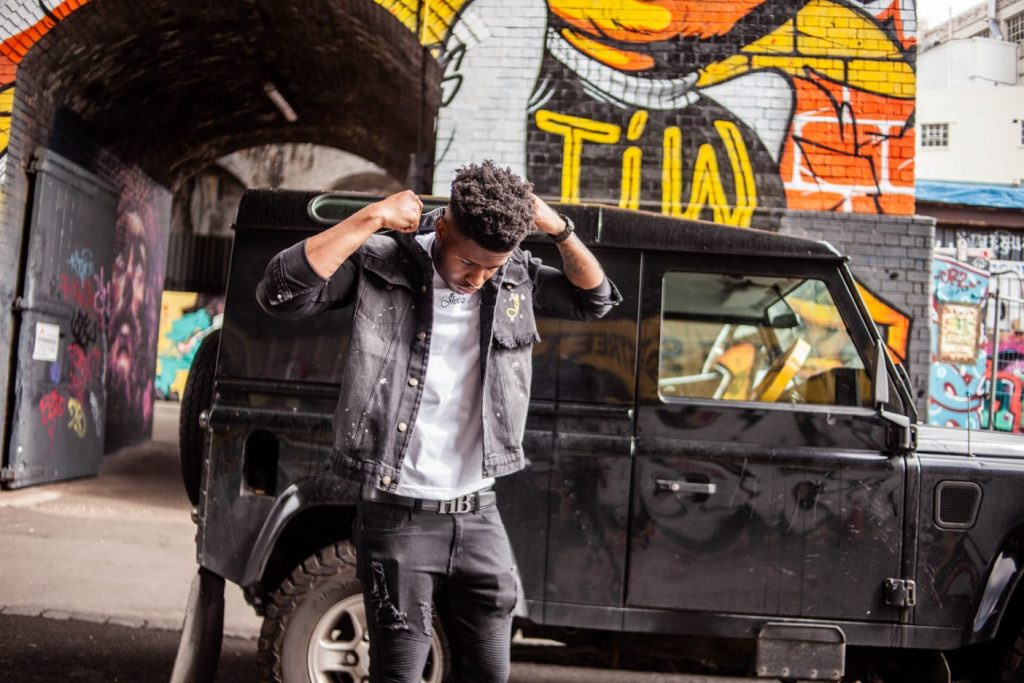 If you are looking to shop through Jheez Official or find out more about the brand, then check out their Instagram: @jheezofficial
Alternatively, if you're an aspiring fashion designer or you're simply looking to make a business move into the fashion industry and need some further advice, you can contact Jay through is socials at @mrjheezofficial. You can also contact us at Chanodil to help you on your fashion journey!