We have had a talk with Carlo Centonze, CEO of HEIQ, a textile technology and innovation company based in Switzerland. HEIQ has developed the textile technology Viroblock NPJO3, a  textile treatment designed to prevent the spread of viruses and infections such as the covid-19. This textile technology has the potential to have a profoundly positive impact on the world at this time, with the outbreak of this virus.
1. Who are you and what is your business?
I studied Biology and Forest Engineering at the Swiss Federal Institute of Technology ETH Zurich. I earned my Executive MBA at the University of St.Gallen.
After my service as an army pilot I started my professional career as co-founder of the ETH Spin-off Myclimate, today one of the world's leading providers of carbon offsetting measures.
I am the co-founder of HeiQ together with Dr. Murray Height. Since 2004, I served HeiQ as CEO, developing the firm from a two-employee company to a 85 employees company. I am also the chairman of ECSA AG, the 107 year old chemical trading family company with 280 employees.
2. What was your previous experience before founding HeiQ?
Co-founder of myclimate.org
Myclimate is a partner for effective climate protection – both locally and globally.
The Swiss Non-​Profit Organisation wants to shape the future together with its partners through consultation, education and climate protection projects. myclimate pursues this as a science-​based and business-​orientated non-​profit organisation.
3. What is the mission of your company?
We believe through perfecting the everyday products of textiles, we are able to improve the lives of billions of people, including not only the end users but also those in different parts of the value chain.
Our textile technology focus on making textiles more functional (such as the latest innovation HeiQ Viroblock NPJ03 which adds an antiviral function to textiles), more comfortable and more sustainable.
Greener, more sustainable chemistry and new processes that help the mills use less water and achieve more output will give them the economic benefits also to improve their families' lives in many ways outside of the textile world.

4. HeiQ textile technology has developed a solution for preventing the spread of covid-19. Could you tell us more about the HeiQ Viroblock NPJ03 and how it works?
HeiQ Viroblock NPJ03 is a combination of HeiQ's vesicle & silver technology.
The HeiQ vesicle technology targets lipid-enveloped viruses, such as covid- 19 (note: According to the CDC, there are seven kinds of commonly known human coronaviruses, and 229E and Covid-19 are two of them.), providing rapid virus destruction, while the HeiQ silver technology inhibits the replication of both bacteria and deactivates viruses.
End use: Single-use protective medical fabrics, e.g. used for face masks, air filters, medical gowns, curtains, drapes, etc. For all fiber types, especially non-wovens.
Face masks treated with HeiQ Viroblock NPJ03 have proved to be effective against human covid-19 (>99.99% reduction of virus infectivity).
A unique combination of vesicle and silver technologies, the HeiQ Viroblock NPJ03 textile treatment is designed to effectively reduce virus and bacteria infectivity on contact. Face masks treated with HeiQ Viroblock NPJ03 show significantly improved reduction in covid-19 infectivity compared to untreated control masks.
5. When did you begin your research on developing such a product?
We had created the technological concept previously, but business disappeared quickly after the SARS crisis was over. The technology we had developed was shelved but not forgotten.
So, when the 2019 novel covid-19 broke out, we were able to react very quickly. It took us three months to get everything back up and running as a supply chain, but we were able to respond.
6. What are your thoughts on this innovation, which could save countless lives?`
At the moment, the key priority for HeiQ is the medical industry, with the product best suited to single-use non-woven fabrics used for face masks, air filters and curtains and so on. We have just launched the scaling up, so we are giving maximum priority to everything that is going to support our healthcare workers.
Once we get enough volumes to the medical industry, which will be in a couple of weeks, we will broaden the scope to allow other applications, for example normal textiles. We are confident that we have the potential to achieve more protection in public spaces by making sure the virus is deactivated quickly on a textile surface.
Today the virus can survive 1-2 days on a textile surface, so you're basically bringing the virus home on your textile, and there's always a risk that you'll touch the textile somewhere and then don't wash your hands properly before you change your outdoor clothing to indoor clothing, for instance.
Then, there's always the risk that you'll touch your face and get infected that way. That's exactly the risk that we want to mitigate.
We want to make the textile surface such that the virus and bacteria are deactivated immediately in a short time – and we're talking minutes.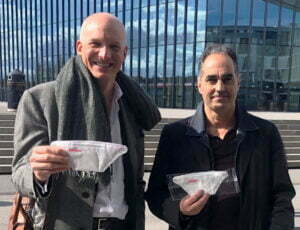 7. Is this solution available to be used now?
The response has been overwhelming; my team is struggling to cope and is putting in the extra hours, working night shifts. It's a great response by everybody to try to help.
That's why we had to prioritise the medical industry, and we're running according to that ethical principle that we're pursuing. We started to produce tonnes this week and are scaling up as fast as we can.
8. What organisations is your company working with, to develop such innovations?
HeiQ has an internal product development team of 12 chemists and achieves its research objectives primarily through a boundless research network with engaged partnership with researchers at 15 universities and institutes around the world.
Today dozens of PhD's work on HeiQ projects and are added brains to our own development team. Among the eight members of our scientific advisory board, there is Dr. Pelet who is a virologist and has contributed a lot of his knowledge to accelerate the development of this technology.
Almost 80% of our innovation is coming from our innovation seminars with our brand partners where we develop the next concepts together.
9. What excites you about the textile technology industry?
How many minutes a day do you typically spend without ANY textiles contacting you? Textile is relevant, it is part of us and what we are. Making them better makes us all a little better. That's a contribution which gives us purpose and motivation.
10. What are the plans for HeiQ within the next 5 years?
We are going to enhance our role as a leader in textile innovation and we are going to share our know-how with our community, trying to make it better and fairer
If you're looking to contact HeiQ, you can contact them via:
LinkedIn:@Heiq, Twitter: @heiq_materials, Facebook: @HeiQMaterialsTextileInnovation, Website: heiq.com, Contact: info@heiq.com.
If you are interested in developing your own brand or textile business, you can contact Chanodil to help!