We have recently caught up with the amazing fashion designer Fabian Nasution, to talk to him about his fashion designs, inspirations and plans for the future. Fabian is a fashion designer from Indonesia and has built his way up to creating his own in-house avant-garde fashion brand; he is currently the founder, owner and creator of @Fabian_nasution.
Fabian has created a collection of clean-cut, modern yet simple silhouettes in his most recent designs. Fabians general aesthetic tends to be quite earthy-toned and simplified. Using shades of grey, creams, navy, blacks and white, Fabians collection reaches out to those who invest in quality and like to play it cool with colour.
Fabian mentions in our interview that he tends to focus on the quality of the fabric and the cut rather than using a strong pallet of colours and prints. It is safe to say that Fabians fashion designs reach out to the 'sophisticated and modern chic'.
1. First of all, tell me a little bit about yourself?
I am Fabian Nasution – I come from Indonesia and have studied in the UK for 4 and a half years, taking my undergraduate at Newcastle University. In my short time living in the UK, I had an opportunity to work at END clothing. This is where I learnt more about fashion design and also what inspires me to become a fashion designer by being able to look every brands collection and meet their representative ideas.
2. Why did you choose fashion design as a career?
Because fashion is not just about wearing clothing or having something to cover your body, I think it is more of a reflection of yourself. Fashion shows your personality, and what kind of person you are. Fashion is basically the first impression of yourself, and because of that I have always wanted to look appropriate and sophisticated. This is why I wanted to create a collection that gets this message across and shows my point of view of fashion.
3. What is your favourite part about being a fashion designer?
The best thing is about the processes of being a fashion designer is the fact that it gives you so many opportunities to grow and to learn, not only in the fashion industry but in a multitude of other things in life. It is a quite an experience.
4. What is your least favourite part about being a fashion designer?
It is not always smooth running being a fashion designer because of the pressures of wanting to have everything perfect, this is what always keeps me awake at night because I am always thinking about the collection and how to make everything perfect in order to live up to my standards.
5. Can you tell us a little bit more about the process of sourcing fabrics for your fashion designs/brand?
Firstly, I always think about what kind of fabric I want and how I want my customer to feel when they wear it – how the fit will effect them and everything. After that, I choose what fabric would suit my specification. Then I ger the fabric that will work for both of these factors, and I start to look to our local fabric store here in Indonesia. It is quite big with a large selection, however I can always look to outside sources such as Korea, Japan, and Europe if Indonesia does not have what I require.
6. How easy do you find it to source fabrics for your designs?
It's quite tricky because my brand focuses on the fabric itself because my collection is simple, clean, and minimalist. I want the fabric is to stand out, so I have to be very careful deciding what fabric that I want to use, because I want it to be excellent.
7. What would you say has been the most challenging/difficult part so far of becoming a successful fashion designer?
The most difficult part is to get the quality of your product to your standards and sustain that high standard throughout multiple different sections of the supply chain from fabric sourcing, pattern making, tailor, packaging to the final product.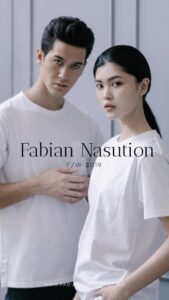 8. Who and what inspires your fashion design?
I do get a lot of influence from brands such as Norse project, APC, Maison Kitsune, Thom Browne, and CDG. However the thing that truly inspires me is actually Copenhagen – when I went there I saw almost everyone there dressing so neatly and casual, but spot on to my fashion vision.
9. Has sustainability influenced any of your designs and why?
I always try to use everything from the more environmentally friendly source available, but I have to being realistic as well with the budget, so the packaging that I use comes from Noissue – a brand that plants a tree for every product used. I try to use organic fabrics but sometimes it will set the price too high, so I have to mix and match to get things within budget.
10. What would you say makes your fashion designs stand out from others?
What stands out, is the idea behind the collection and how I want to make classic silhouettes with a touch of our own brand identity to make it fresh and new. This reinforces to people that they don't have to be flashy to make a good impression.
11. What would you say is the most difficult part about becoming a professional fashion designer?
The committment is the most difficult factor, and being inspired to pursue your dream to become the best.
12. Do you think getting a fashion design degree at university essential for you to become a successful fashion designer?
I mean it is really good resource for you to learn fashion design and to create networking connections within the industry, but I believe there are many ways to become a fashion designer not only through getting a fashion degree.
13. When was it that you noticed your fashion designs starting getting recognised and how did that happen?
I really don't know for sure when people started to recognise my designs, but when my clients feel good about themselves by wearing my collection that give me as much motivation as being a recognised designer does.
14. What advice would you give to aspiring/emerging fashion designers?
My advice is to always try everything and to not be afraid of judgement by others, because people have different perspectives and tastes and these do not always please everyone – it's about how you present garments and how you tell your story. If you do it with your heart it will touch someone else's heart too.
If you're an aspiring fashion designer, a recent graduate in fashion, or you're quite simply interested in the world of fashion and have some important questions that need answering, do not hesitate to contact us or the fashion designer himself Fabian (via Instagram), for some first-hand advice directly from someone in industry.