This weeks interview is with graduate fashion designer Lydia Jackson. Featured in Graduate Fashion Week and in Drapers, it is safe to say that Lydia has already had a successful start to her fashion designing career.
What is the fashion designers ethos?
Lydia's general design ethos and most recent collection consists of very eccentric, explosive bright colours mixed with bold illustrative patterns that almost give off an art-deco theme. Not only does Lydia focus on strong colour choices, but she also uses lots of layering and uniquely cut silhouettes to create a volumized and eye-catching garment, slightly referencing Frida Kahlo.
As Lydia has created an amazing collection and has already started her fashion designer career off on the right foot, we thought it would be a great idea to get in contact with her, and hopefully this inspire you and will help any current aspiring designers out there to make the right choice!
1. When did you start designing?
I started to design at high school, I took GCSE Art and Textile, where I really found the subjects I enjoyed and the subjects I was good at. From there I decided to study fashion at college and later university. But before school and my selected subjects I've always had an interest in clothing, from a young age I would dress up my dolls in different clothes mixing and matching different clothes and fabrics. I later got more experimental with art and this combination of art and clothing has what has made me into the designer I am today.
2. Why did you choose fashion design to pursue as a career?
I haven't chosen fashion alone to pursue a career in, I just know I have to be within the creative sector because I'm constantly absorbing inspirational from all around me and developing these images/moments/experiences into some kind of design form, maybe clothing or print or something completely different. It's something I have always had a passion for, and I would feel I would be wasting a lot of potential in my work to not pursue being a fashion designer or something similarly creative.
3. How easy do you find it to source fabrics for your designs?
Sourcing fabric in the UK can be difficult and as a student prices within the UK particularly London are high. I sourced a lot of my final collection fabrics and trimmings from Hong Kong when I was out there on the Shirley Chan Scholarship and Polyu Technic University.
There were streets full of everything you could imagine and more, prices were low and you were able to buy off the role, meaning you would be able to get you hands on unique one off fabrics. Along with my purchases in Hong Kong, I printed most of my collected, so sourcing the fabric wasn't difficult it was choosing the correct type of fabric for the silhouette I found challenging.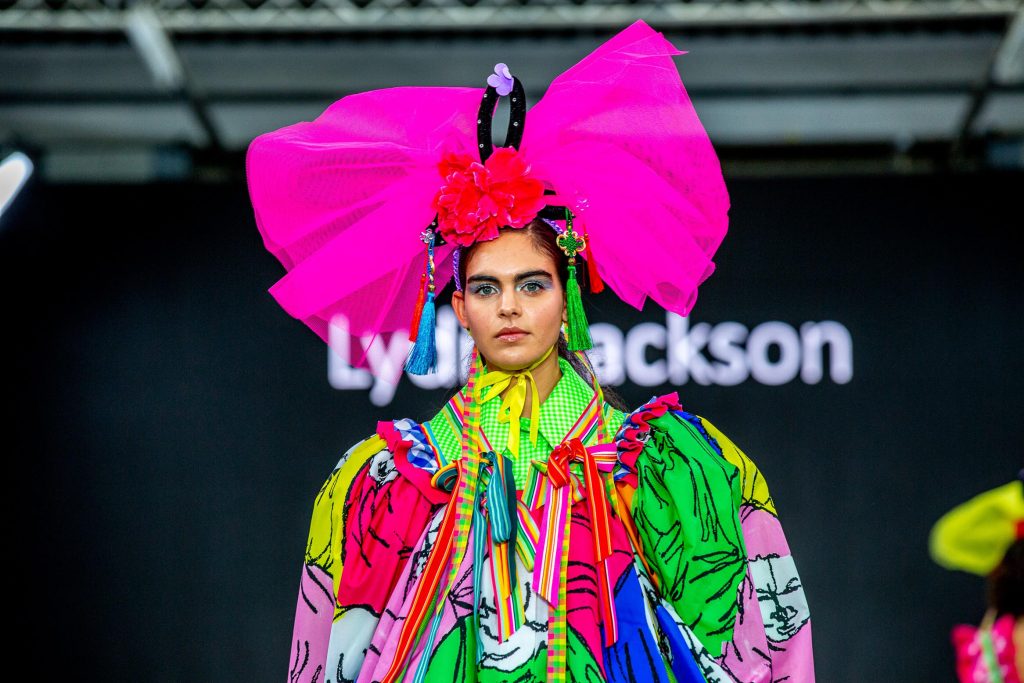 4. What is your favourite part about your job?
My favourite part of being a fashion designer is the process and the journey you go through to get the outcome and be able to style the outcome to communicate the message you started with when gathering your research. Through-out my studies I love I have been able to free with my ideas and projects, the restrictions haven't affected my creativity.
I have loved being able to work to no rules, being free with my thoughts and processes. I love how individual my ideas are and how personal they are to me, it makes it so much more enjoyable working on your own ideas. And I think the outcome is more effective when it's come from someone individual interests.
5. What is your least favourite part?
My least favourite part of being a fashion designer is that it really hard, near to impossible to make a living from it. I love what I do and if I could I would be doing it every hour of the day, but as a young individual it's hard to know where to start.
It can be overwhelming to have so many ideas but no direction to take them, this can affect the purpose of your work. You go through school, college and university with purpose of your work, some people are driven by grades or getting a job and when you finish education your purpose as a designer is sometimes lost.
6. In terms of starting your fashion design career, what has been the most difficult part so far?
In terms of starting a fashion career the hardest part so far has been decided what I want to be, there are so many areas I enjoy as a designer, research, designing, sourcing fabrics/trims, print, pattern cutting, manufacturing and styling the outcome putting it all together.
I love styling my work, I love the process of matching colours, matching garments, accessories. Placement of the outfit on the models. Creating a vibe, a message and mood for the shoot.
7. Do you think it is important to come from a creative background to become a fashion designer?
I don't think it's important to come from a creative background to be a successful designer no, I don't think you have to have creative family or live in a creative area. I think you have just got to have a passion for it, an eye for it.
I think everyone is creative in their own way, but it depends if they care enough to use their creativity.
For me personally, I don't live in a popping city. I come from a small village in Lincolnshire, there are people within my family who are creative, both my mum and great nana have always been into making, my mum makes all the curtains and things around the house, she's very skilful when she puts her mind to it.
My Great Nana had an eye for things my nana tells me, everything she used to buy she would alter/change to make it different from its original state, she wanted everything she and her children wore to be unique. My Uncle is an illustrator and my Cousin is an Architect, so there is creative running through out my family but i don't think coming from a non-creative background should stop you.
8. What obstacles have you faced as a graduate in fashion design?
As a design graduate I have faced struggles along the way, for me it was the pressure I put on myself to do well and this can become draining, I always found it hard sometimes to get other people to understand my ideas when communicating them.
I am an individual who is head strong about my ideas and within education it can be frustrating when you being pushed into a direction you never wanted to go in but you have to be understanding that these people are trying to help and get the best out of you as a designer.
Looking back I wish I didn't put so much pressure on myself, I wish I relaxed a bit more and allowed myself to have time out to reflect on my work. You get into the cycle of your work and when you aren't doing anything related to it you feel guilty, but balance is key to success.
9. What has inspired your fashion designs?
As a designer I am inspired by a multiple of things, I have always had individuals or groups of people I have found fascinating and have always looked up to them as an icon. Usually style related, the way they dress, put together their appearance is something that fascinates me.
My biggest inspiration is my Nana, she has a very unique style which has remained through-out the years, at 80 years she is as cool as she was as a teenager, she likes to look different, she loves colour and pattern.
Frida Kahlo is another one of my main inspirations, I dedicated my dissertation to her "Has Frida Kahlo pertinent rejection of female beauty standards and traditional ideas influenced women in the 20th century and the way they embrace the female form and there beautiful flaws". She was an individual who was ahead of her time, she didn't care she was different, she liked to stand out. Her individuality is what made her so powerful, her outlook on life he courage and bravery is expressed through the form of art. She uses her culture and heritage to show who she was and what she represented in that era of time.
I based my final collection on Beauty Without Boarders, I gathered all my research around South East Asia where I was capturing moments of local individuals living there everyday life, I challenged myself to communicate these individuals raw/unconventional beauty through my design process and prints. For me it's about showing to other you don't have to fit in, you don't have to be the same as everyone.
People should be proud of being different and i think individuals defiantly the younger generation find it hard with society's attitude in terms of the media and the 'perfect' appearance'.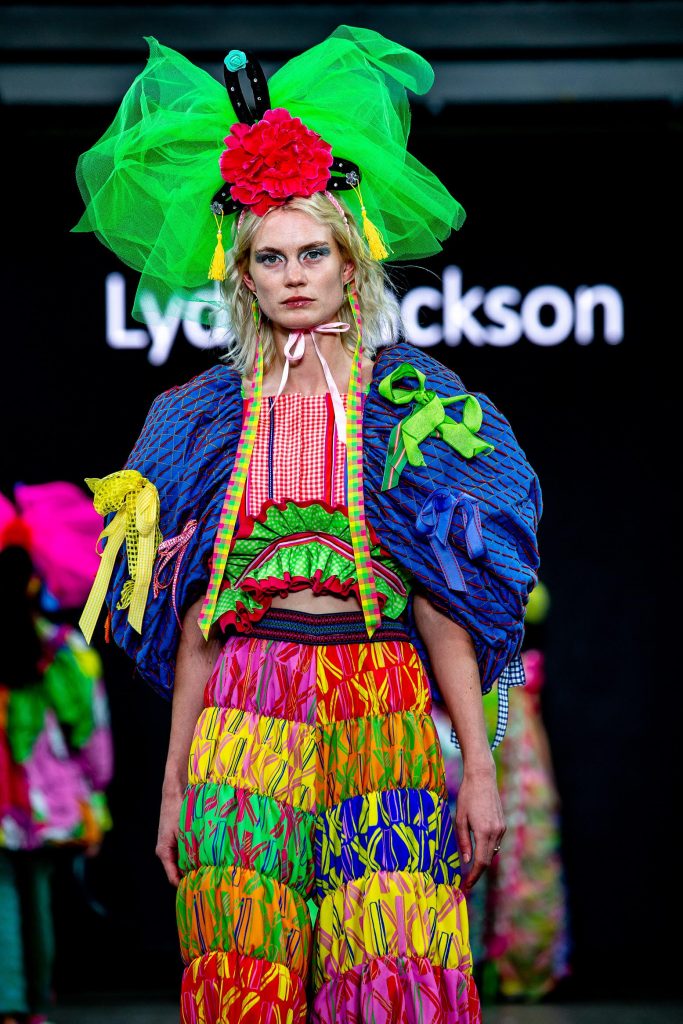 10. Has sustainability influenced any of your designs and why?
Sustainability is such a massive factor you have to consider as a designer defiantly with the worries of waste and the life style our generation is leading. When I approach design I always think of the way I am working, it's hard to make everything you do 100% sustainable when you want to translate your creativity to its full potential.
When creating my final collection, I tried to re-use my toiles into my next design, I feel this helps generate ideas. Taking one creating and re making it into another. Moving forward with my work and thinking about my sustainable approach I want to work with re using existing material and existing clothes to make new ones.
My approach comes from re wearing my mum and even my nana's clothes, I like shopping in charity and vintage shapes, there's something much more exciting buying an existing already worn garment because it has so much more character and i feel like this is a subject that will get much popular in the future, maybe everyone should try only buying and re wearing ready made/old garments.
11. What strengths and skills do you think it takes to become a successful designer?
To become a good and successful fashion designer I think you have to hard working and dedicated to it, it's not a job it's a lifestyle. You have to be in love with what you do and the work you create, you have to be passionate and enthusiastic because if you're not totally connected with yourself and your work it's hard to communicate this to others.
The design industry is so competitive and it's only going to get worse, you have to really want it to get anywhere, there's defiantly something said about staying true to yourself and reasons you are creating the work, it's easy to lose your way and become part of the mainstream.
12. What do you think is the most difficult part about trying to become a successful/established fashion designer?
The hardest thing about becoming a designer is getting yourself out there, your work noticed and someone (the right person/people) to establish you.
This could be down to your location, when you're not in the heart of a big city it's near to impossible for someone with some power to take your work forward, the best thing about social media is how it captures a wide audience and you can do that from everywhere around the world, it's a scary thing but also really cool.
I also think that it's hard for young people, coming out of university who don't have any money to get out there and do what they want to do. I've found it hard having always felt like I have had a purpose with my work, completing my GSCE's to get to college, getting my grades at college to get into uni and after graduating you are just there not sure what your direction of purpose is as a design but I think that's when you really establish why you are doing what you are creating and what you are wanting to do. I think it's a life-long process which can be frustrating sometimes.
13. What key lessons have you learnt so far about becoming an emerging designer?
The key lessons i have learnt are don't let people control your work or your style, stay true to your style and your work. Always go with your gut and trust it, it can be hard because you have people in your ear all the time telling you what's best.
But no one knows what's best you, more than you know yourself. Because after you graduate you on your own and there would be nothing worse looking back and regretting the choices you made to please someone else. I've also learnt you don't have to fit in to be good or successful, you don't have to be categorised as a designer.
14. How do you stay up to date with fashion?
To keep up to date with fashion I do use social media – Instagram to get an insight to what's going on with artists and other designs current and old work. I think to keep up to date with collaborations, seeing how different designers/brands/artist are working together to communicate strong current social issues.
Platforms like instagram are great because you can be scrolling and see a high end couture level designer then the next post could be a friends current work, the verity keeps everything exciting and new. I do prefer to keep up to date with up and coming designers work because I feel it's more real, sometimes these massive names aren't really doing much different, I appreciate it but I can relate more to people more my own age. But it is good to be aware with what's going on with brands/designs you aspire to be like.
15. What does the future hold for your fashion designs?
I think the future is massively unknown at this stage, I'm just going to take opportunities as they come and carry on doing what I enjoy. Im exciting to collaborate and start new projects, i think i'll explore areas I haven't before, I've really enjoyed print this year and have always been keen for children's wear, i've got ideas how I can combine everything together. The future is looking bright and its only as good as you make it.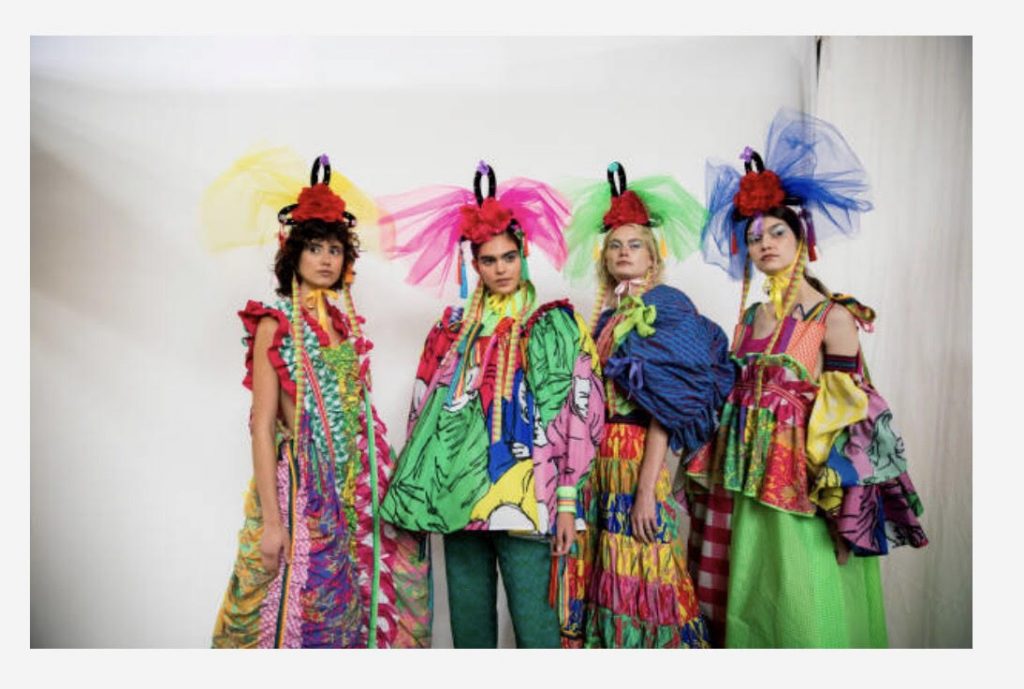 If you're interested in having a chat with Lydia or viewing more of her collection, check out her Instagram: @lydiaellenjackson. You can also find a range of other inspiration for fashion design within our interviews on our blog.