The NEW Digital Product Passport is here! Seamless Source's latest feature release.
We're proud to introduce 360 Trace – our latest innovation and the FIRST in the fashion supply chain marketplace.
We're creating a more transparent World. Allowing you to know exactly where and who made your products, from source through to logistics, all in one place. As well as giving insight into the circularity. Absolutely everything is accessible for anyone to view.
360 Trace is a digital product passport which is linked with your garment or product from the very moment it is created. Leading our customers to achieve a better fashion supply chain through transparency and circularity.
We are very excited, having full confidence that 360 Trace, along with our Seamless Source platform, will positively change how the fashion supply chain operates and shake up the industry.
Experience new innovation
Now with every product you create with us via our Seamless sourcing platform, a digital passport is created. This allows you to trace the complete supply chain for your benefit as well as your own consumers.
What you will expect to see on this form is the product's; Fabric Composition detailing the fabrics used and their percentages, including the trims – e.g. coconut shell buttons; Care Instructions like as you would see on a care label, advising how the product should be washed, dried and ironed; Sustainability and Circularity, this is a small statement about the product's circular journey and how you can help; as well as the Supply Chain and its Certifications.
The Supply Chain importantly showcases every step of the process; Design, Raw Material, Spinning, Weaving, Dyeing, Sampling, Trims, Manufacturing, and Delivery. It has details of where each of these steps took place, such as the country and its region, including their certifications. These certifications and processes are either verified or unverified (highlighted in orange) for added transparency. Manufacturing also details the number of employees at the factory and its percentages of different genders who work there. You can even see the method of Delivery, be it either Sea, Air or Land freight.
360 Trace will educate consumers and increase trust – elevating yourself from the competition.
This product passport can be seen through your account underneath the name "TRACE" on the product's "Inquiry" page – and with every product, a QR code is also automatically generated to enable easy and free access for anyone to view.
How does it work?
It's simple. All you have to do to share this product passport is to download the product's QR code or share the weblink from the 360 Trace page. Then there are many effective ways in which you can utilise the QR code, here are three examples:
Either print the code onto your hangtags when selling the products.
Print the QR code as a fabric label attached to the product or, if its viable, directly onto the product itself.
Or even embed the product passport code to your e-commerce store.
Allowing shoppers, product owners and browsers to check out the products' supply chain, certifications, care instructions, circularity and sustainability whenever they want.
All that is required to be taken directly to the digital product passport is to scan the QR code using a camera device. No Seamless Source account is needed to access these sharable links.
As an account holder you even can gain insight into how your product's QR code is performing with data analytics. By viewing the scores on the amount of scans, clicks and locations, you can better your understanding of consumers and their behaviours.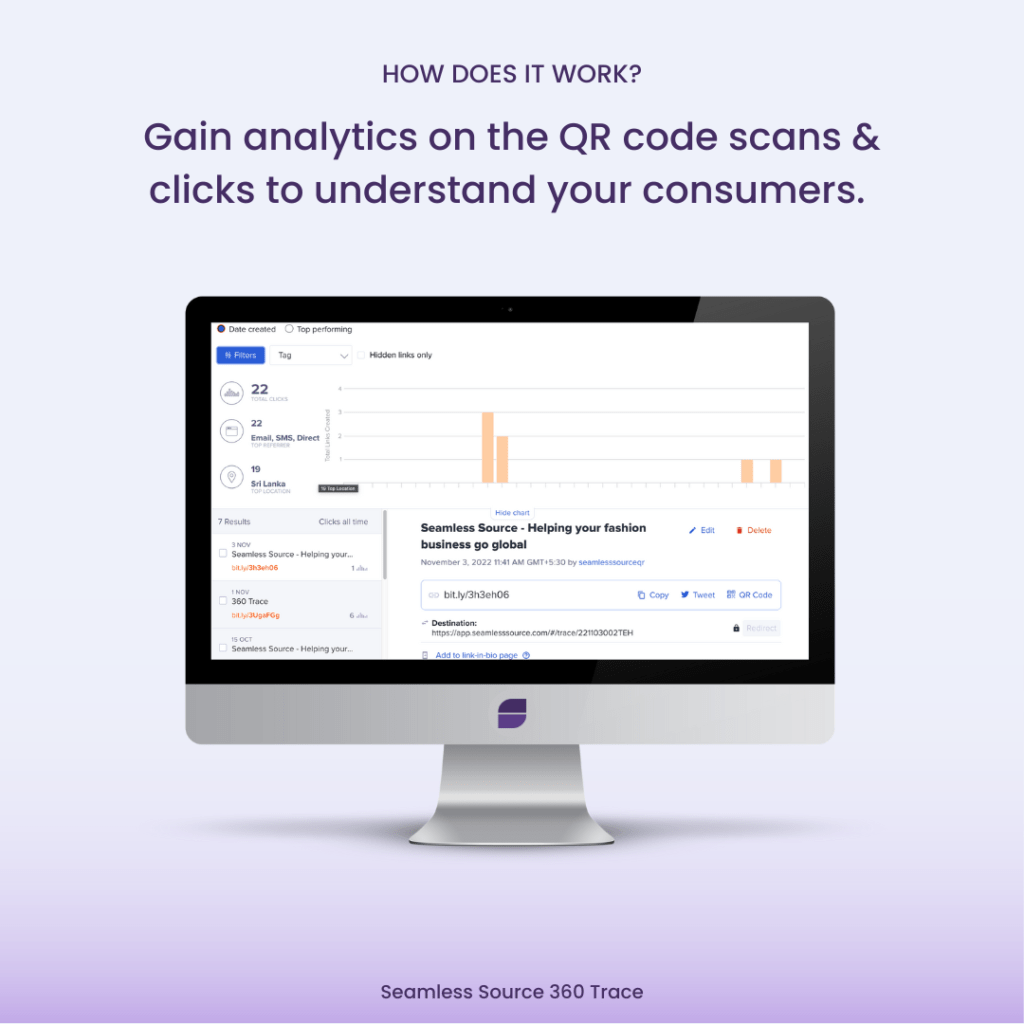 Why not try out our QR code below and see our NEW Digital Product Passport for yourself!
If you're interested to learn more about 360 Trace and our Seamless Source platform then feel free to drop us a message to info@seamlesssource.com or join our live chat.