Contents: 1. Ethical & Sustainable Suppliers / 2. Arrange Calls with the Team / 3. Timeline Tool / 4. Email Alerts / 5. Personalised Activity Log / 6. Open-Communication Chat Feature / 7. Organised Enquiry System / 8. Specialised Around You / 9. Service Types / 10. A Walk Through of the Platform
Ethical & Sustainable Suppliers
The Chanodil platform allows you to conveniently connect with audited suppliers (directly from our team) that have responsible measures in place to ensure ethicality within the production process and sustainability throughout the supply chain to ensure that you receive high-quality sustainable products that do not harm the environment.
Our team has to approve all new suppliers, and we work directly with them to ensure that their code of conduct is in line with our values. If the supplier does not meet the necessary standards then we work to improve their business so that they can still become part of our network and create a better environment for workers and practices. We continuously help all of our suppliers to maintain the high levels of service that we are known for.
Arrange Calls with the Team
Our platform stands out from competitors by offering you the opportunity to personally call with a member of our team. We understand that sometimes you may have queries that are easier to solve through a real-time conversation, and therefore we offer this option to be able to discuss anything you may need support with.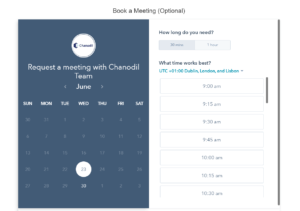 Book a 30 minute or 1 hour-long slot at a time and date that is convenient for you. You can then talk with the Chanodil team, understand our processes and the options available to you, and we can take it from there.
Timeline Tool
A key feature on our platform that you will find extremely beneficial is our timeline tool that tracks the process of your enquiry. Once you have created your enquiry, any key updates and progress are visible on the timeline in order to make it simple to keep track of where your order is at that current moment in time.
Each timeline is personalised to that individual enquiry, so there will be no issues with confusion, especially if you have multiple orders open at the same time.
You will never have to worry about missing any key deadlines as you will be able to quickly view everything in one place when you log into your account on the platform. If you have any worries about delays or progress reports the timeline tool will ensure that you are up to date – enabling you to stay organised and never lose track.
Email Alerts
In addition to our timeline tool – we will also send you email alerts for updates or progress within your enquiry. This ensures that you will never miss something important, even if you have not had the chance to log onto our platform. We understand that operating a business is very time consuming and therefore you may not always have the opportunity to keep coming back to the website to remain updated.
Email alerts also ensure that everything can be kept organised on your end as well as ours – with the opportunity to create a folder for all of your Chanodil enquiries.
You will receive email alerts for new messages sent by the supplier or by the Chanodil team, as well as progress along the timeline tool and in the activity log e.g. when quality control has been completed. This makes viewing and managing your account much simpler.
Personalised Activity Log

The personalised activity log is located in the top right-hand corner of the platform, it is the middle icon featured above. Simply click the bell icon to locate your log.
Our personalised activity log is key when it comes to viewing important information related to all of your enquiries in one place. The activity log keeps track of all messages, updates with your order/s, progress reports including individual enquiry related issues such as order shipment, and everything in between.
It is a tool created with you in mind – we want to be able to provide the most proficient service and this allows us to do this. Keeping you updated is important to the Chanodil team to ensure your trust and involvement in the process we are committed to helping you with. We always want to provide you with the best service and with this option, we are always able to be transparent with you.
Open-Communication Chat Feature
Our chat feature gives you the opportunity to chat one-on-one with both suppliers and the Chanodil team, as well as in a group. Send messages and receive replies in an efficient way within the chatbox.
This option allows for an open-communication line where you can communicate with the necessary people and get responses to any questions, keep on top of changes, and engage with the people who are fulfilling your requests. This makes any progress run seamlessly and means that there won't ever be a time where you are stuck for no response or struggle with miscommunication.

You can search your messages to find the correct people to talk to instantly. Attach emojis and files within the chatbox, add images and see all the information about your enquiry alongside the chat.
You can also create new chats at any point – allowing you to discuss freely with the person you may need to talk with.
Pin messages of high importance so that there is no worry about forgetting it, this feature is extremely easy to do and will save you time going through messages to find the one you are looking for. The pinned feature allows you to relax knowing that you are up to date on the latest communication between you and the supplier/s.
Organised Enquiry System
Organisation is at the heart of our platform, which means that maintaining smooth operation for all of your enquiries is extremely simple with our new system. All of your enquiries for orders will be separated to make sure that you cannot confuse any details, however, you can still view every enquiry in the same place, making sure that everything is easily accessible.

You can search your current and previous enquiries, and filter by product category including bridalwear, activewear, denim etc. This makes sure that you can find the correct enquiry quickly.
The chat function is separated by this organised enquiry system and can be located when you click on a specific one. Within this – all images that you have uploaded can be seen (unlike in an email chain).
Specialised Around You
One of our key features on our new platform is that it is specialised for your needs. Find exactly what you are looking for by specifying what you need from us and the Chanodil team. There are multiple options to choose from and this will make sure that you are only being provided with the best services that fit you and your organisation perfectly.
One of these features is our bulk order quantity – we allow small scale businesses and start-ups the opportunity for a low minimum order quantity, with our minimum being 50. We also offer different pricing plan levels in relation to this – providing both small, medium and high bundle deals to help your organisation flourish. Our free (bronze) deal allows you to place up to 5 orders a month, so if you are still in the early stages, Chanodil can be helpful to allow you to grow.
Our platform also allows you to specify the product type and category that you would like to enquire about. This feature gives you the option to be matched with a supplier that specialises in that particular area, meaning that you will receive a product that you will be happy with. Many B2B suppliers do not do this, meaning that you may end up with a poor quality garment due to not having the required machinery or workers, and we ensure that this will not happen.

You are also able to specify colourways and material, which will help us pair you up to suppliers that once again, specialise in the relevant selection.
Service Types
We understand that all of our customers are diverse and will require different things – which is why we work around you. Our new platform allows us to provide only the services you require and therefore you will not have to waste time or pay out for any expenses that are not necessary.
Select the exact services you require and we will work with you to bring your ideas to life.
A Walk-Through of the Platform
The first thing you will have to do on the platform is to either sign in or create an account – this is very simple and allows you quick access in the future to all of your enquiries.
Upon successful login, you will then see a banner welcoming you to the website as well as the option to create an enquiry and view your current enquiries (if you have any).
If you would like to place an order, simply click the 'create enquiry' option and it will take you to a page where you will be able to choose from a range of options.
You will then be able to choose from the product categories including product type, category, bulk order quantity, number of colours and material.
By clicking on the drop-down arrow, a box will appear and you will be able to view and select the most relevant option to your enquiry.
After making your selections, you will be able to choose which type of services you require from our team (you can pick and choose each option and this makes it seamless for you), as well as providing any additional information that you may like to add and supporting images and files.
You will be given the option to request paying in either US Dollars, Pounds, or the Euro.
After completing these requires selections – you will be given the option to book a meeting with our team. This is not required and is used mostly as support if necessary. Once you have decided whether you would like to book a slot or not, you will have to click the 'save' button at the bottom right of the page. Do not forget to press this, otherwise, your enquiry will not be submitted.
After pressing save, your enquiry can be found in the 'my enquiries' section back on the main page.
By clicking on this section – you will find all of your enquiries separately in a list. You are able to filter these using the search bar and product type categories listed at the top of the page. By clicking on an enquiry – you will be taken to the chat option, where you will be able to talk to your supplier/s and the Chanodil team.
From the chat – you can edit your enquiry, making it easy to amend your order or fix any mistakes.
Just below this is the product details for that particular enquiry – and here you will be able to locate the selections made in the previous submission alongside the files you have uploaded
.
You can manage updates throughout the process through here, or via the activity log, which can be found in the top right-hand corner of the page by clicking the bell icon.