In regards to trend growth – there is a big difference between micro trends and macro trends and how the consumer market is currently shifting. Micro trends can be classified as items that gain popularity just as quickly as they lose it, a fad that does not retain momentum.
It usually relates to specific garments rather than a silhouette or style, with the potential for the item to receive 'cult' like status. Think of the Lirika Matoshi 'Strawberry Dress' that blew up during 2020 and was branded as the 'it' dress of the year.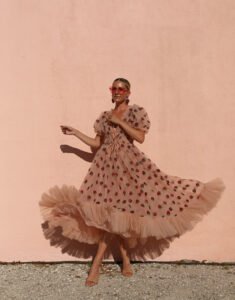 Micro trends becoming more prominent within the industry over the last few years can be traced back to social media platforms such as Instagram and Tiktok – from influencers making outfit repeating seem like a crime to brands promoting the need for more and more clothing without much regard for the impact this will have later on.
Due to this, current consumption rates are speeding up trend cycles – and combining this with the fact that large fashion retailers exponentially increase the number of ranges they release per year leading to unsustainable turnaround times for the 'shelf life' of garments, micro trends can seem like the next thing to buy into.
Avant-Basic
One example of a recent micro trend is the concept of Avant-Basic – a term coined by fashion bloggers to describe the popularisation of garments that are quirky but easily identifiable. Key features to this micro trend tend to be bright clashing colours and bold patterns with a strong 70s influence.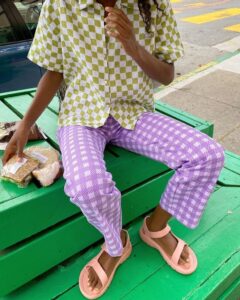 Examples of brands that can be classified as catering to or having garments become popularised by the Avant-Basic micro trend are House of Sunny, Lisa Says Gah, Paloma Wool, and Desigual. Arguably the most notable item under the Avant-Basic umbrella is the House of Sunny 'Hockney Dress' – seen on almost every social media influencer over the past few months.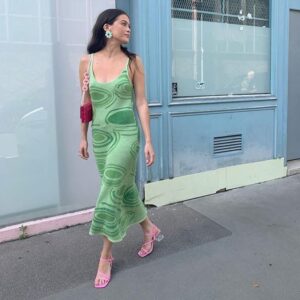 Although this micro trend was publicised by smaller more sustainable businesses, fast-fashion brands such as Zara have also been buying into the trend – with their SS21 collection sporting many of the same features as these smaller brands.
These items have become increasingly oversaturated within the market due to the number of people buying into the trend thinking the garments are a unique way to express their style when in reality they have actually been associated with being 'basic' to the majority of the fashion community.
This has led to a fast rise and fall of the garments – with people actually shaming others for wearing them leading to an increasing number of consumers getting rid of them – either by throwing them away or donating them.
Individuals have noted multiple Shein copies of the Hockney Dress already appearing in charity shops (distinguishable from the original House of Sunny dress by the colouring) and this brings about the question of how bad for the industry and the environment micro trends really are. If a dress no more than 4 months old is already being donated, the potential life-cycle of clothing is becoming dangerously low and the sustainability of these trends needs to be questioned.
Macro Trends
On the other hand, macro trends are much less rapid than their counterpart. These trends tend to focus more on the current environment and build themselves on important topics that will potentially go on to influence the fashion industry for years to come.
Macro trends are based around a shift in consumer behaviour and are extremely influential for all brands and market levels. For example, a huge macro trend throughout 2020-2021 was loungewear due to the implications of Covid-19 and the increased number of people inside their homes.
Optimism
One of the biggest potential macro trends for the upcoming seasons is optimism and the potential to get back to how we were. This encompasses bold colours, daring silhouettes, and over the top design choices – with summer nights and explorative months ahead, the best choice is the most exciting choice. This trend ties into Pantone's colours of 2021 – Ultimate Grey and Illuminating (Yellow).
Digital Innovation
Undoubtedly one of the biggest trend developments throughout recent years has been the switch to a digital mindset, with the rise of pure players and efficiency in terms of ease of use. Digital has been making its way into fashion trends for a while now and will likely continue on for years – it can be seen through innovation across fabrics, catwalks, and marketing efforts.
Macro trends are much more effective in portraying a longevous and responsible approach to fashion than micro trends, and if you are looking at incorporating more trend-led pieces into designs or are interested in incorporating a trend-forward approach into your wardrobe – macro trends are the way to go.
If you are interested in a range of content covering the fashion industry, make sure to catch our other blog articles on our website.