MoldMe by Molly: For every woman
MoldMe, created by Molly Fajemirokun, is an athleisure fashion brand specialising in high-quality shapewear and loungewear. MoldMe by Molly focuses on women, and was conceptualised to enhance women's natural silhouettes. 
The brand focuses on products that put comfort and confidence at the very centre – MoldMe by Molly believes in creating pieces for every occasion, for every woman. Working with Seamless Source, the brand was able to create incredible products that would appeal to women on a global scale.
MoldMe by Molly
The challenge of 'shaping' the future
The brand offers a range of products perfect for lockdown and beyond. The star of the MoldMe by Molly brand is its shapewear selection – in order to enhance figures, the brand offers exclusive shapewear to help every woman look their best!
Shapewear has become an essential part of any woman's routine, from the influence of SKIMS and the body positivity movement. Shapewear has to be form-fitting and is extremely technical to produce. The challenge for Seamless Source was to create options that were both on-trend and expertly crafted without breaking the bank.
MoldMe by Molly
This is where Seamless Source comes in
MoldMe by Molly joined our platform with the goal of producing comfortable and effective shapewear that would fit its specifications perfectly – knowing Seamless Source would be the best place to handle its order with ease.
The brand was handled by our expert team from across the world. Our operations team managed the initial stages of the process, developing the right supply chain strategy for the brand themselves. MoldMe by Molly already had its tech packs finalised – so we were able to progress instantly to the sampling stage.
With our order management system, we are able to offer an array of services tailored directly for our brands' needs, meaning no unnecessary time or money is wasted going through processes that have been completed in-house. 

We created a variety of samples across fabrics and different shapewear styles. The shapewear was created using a special fabric blend as a standard fabric could not be used. So, we created a custom blend of 78% polyamide and 22% elastane to ensure quality. Once the fabric was confirmed, the product samples were developed focusing on the fit and cut. As a shapewear garment is focused on suppressing certain points, our team ensured that the samples were doing the job in the correct areas.  
Once the corrections were made, the MoldMe by Molly team was happy to proceed and signed off on bulk production for 800 pieces, with 400 shorts and 400 thongs being ordered in a solid black colour.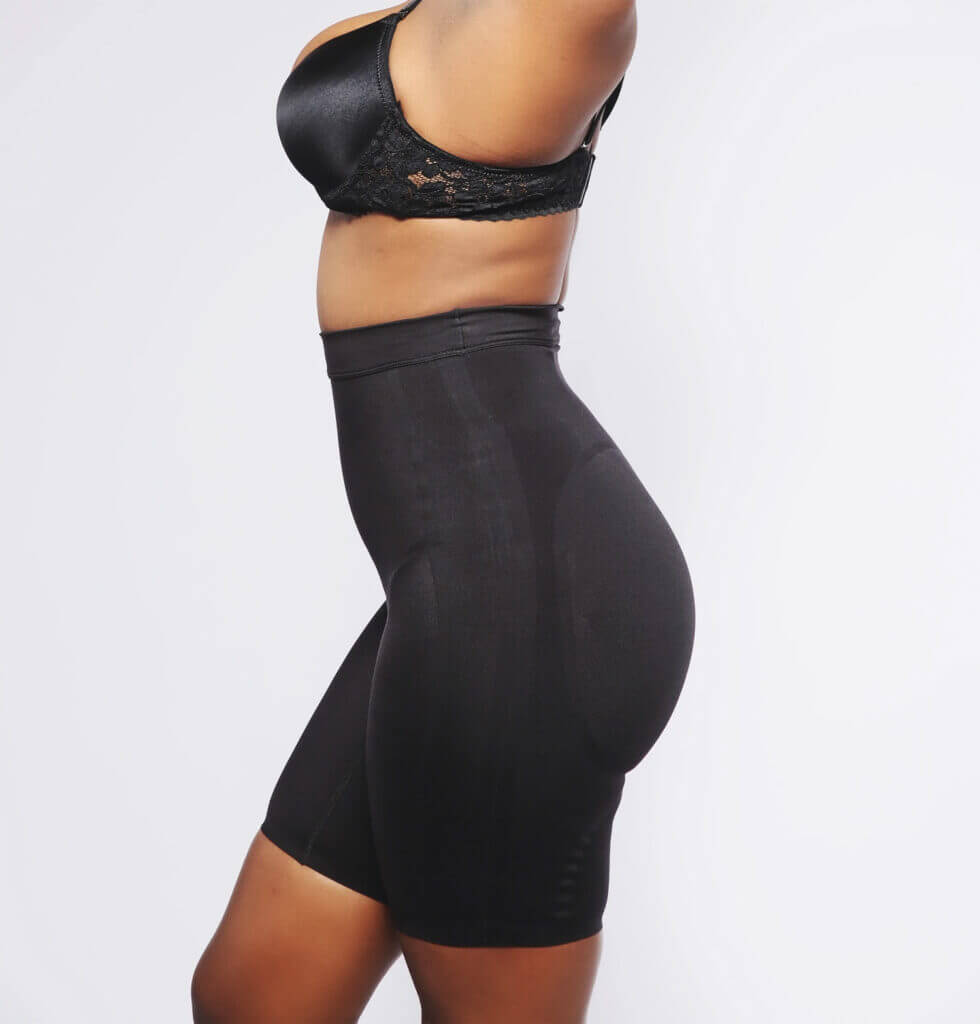 MoldMe by Molly
Successful production
After finishing production in one month, from sample development and finalisation to bulk order manufacturing and finally to shipping, we are so pleased that MoldMe by Molly was able to create perfect shapewear with us. We will continue to be there to bring new and innovative shapewear and athleisure products to the market.
If you would like to explore the stories from our other brands we have worked with, you can find them under the success stories section! You can also check out even more examples of our products, and trending topics on our website.