The fashion industry is complex at the best of times, but acronyms can help beginners breakdown the most important parts.
If you own your own fashion clothing line or intend on starting one, it is important to know certain fashion acronyms, as they are used quite often for quick communication with your suppliers, manufacturers and designers.
In this article, we have highlighted the most popular fashion acronyms that you will need to know as an entrepreneur in the fashion industry – ranging from sustainability to specific skillsets.
The Top Fashion Design Acronyms:
Fashion design acronyms are used frequently, and may also be used in your tech pack. It is important to know the basic design related acronyms, as it may be easier to communicate with amongst other fashion designers, suppliers and manufacturers.
A/H– Armhole:used to describe the opening of the garment where the armhole fits through
AI – Artificial Intelligence: the development of computer systems to perform tasks (such as design, trend forecasting and so on)
A/W– Autumn / Winter: used to describe season of collection
CAD – Computer Aided Design: a platform used to design and edit products
CB – Centre Back: this is to describe the centre of the back in a fashion design
CF – Centre Front: this is used to describe the centre of the front in a fashion design (such as the torso)
DTM –  Dyed To Match: used to inform product information for design
HPS – High Point Shoulder: describes the horizontal line across the shoulder point of the garment
SPI –  Stitch Per Inch:  describes the length of stitches by how many stiches are in an inch
S/S  – Spring/Summer: use to describe season of collection
POM –  Point of Measure: used to describe the exact place to measure the garment
PS – Photoshop: Adobe platform that edits photos
TM –  Total Measure: the total measurement from point A to point B
WB – Waistband:used to describe the waistband section of a fashion design
The Top Manufacturing Acronyms:
It is handy to know some manufacturing terms as they may use a lot of them when communicating with you regarding there types or production process. We have listed a few common terms that are used:
APQP– Advanced Product Quality Planning: an automatic process for product realisation
BOM – Bill Of Material: a list of the raw materials, sub-components parts, intermediate assemblies, sub-assemblies, and the quantities needed for each end product. A BOM is a form of communication for this between each manufacturing partner
CMT – Cut, Make, Trim: used to describe a type of manufacturing service
MSRP – Manufacturing Suggested Retail Price: a pricing suggested from the manufacturer in regards to the retail price
MTM – Made to Measure: this usually refers to custom clothing that is cut and sewn using a standard-sized base pattern
MTO – Made To Order: a manufacturing process where the manufacturing starts once the customer has made an official order
OBL – Ocean Bill of Landing: a document that goes into detail regarding transportation/ shipment information
PO – Purchase Order: this is a documentation issued by a buyer to their seller; it will include quantities, indicating types and final prices of the product. This documentation is used to control the purchasing of products from suppliers
RMG – Ready Made Garments: this is used to describe the mass-produced finished products of the clothing industry
SMV – Standard Minute Value: this is used to define as the time which is allowed to perform a certain job. It is usually expressed in minute value and often used broadly within the world of garment manufacturing

Top Fabric-related Acronyms:
If you are a fashion designer or a founder of a clothing line, you will need to know your fabrics. Having said that, you will also need to know the acronyms to decide such fabrics. We have put together some of the most commonly used fabric acronyms for you:
AC : Acetate
AF: Other Fibres
CMD: Modal
CO: Cotton
CV: Viscose (Rayon)
EA/EL: Elastane
HL: Cotton / Linen Mix
HS: Horse Hair
LI: Linen
MA: Modacrylic
ME: Metallic Fibre
NY: Nylon
PA: Polyamid
PE: Polyethylene
PL: Polyester
PM: Metallised Polyester
PU: Polyurethane Fibre
RA: Ramie
SE: Silk
VY: Vinyl
WA: Angora
WB: Beaver
WK: Camel Hair
WO: Recycled Wool
WP: Alpaca
WS: Cashmere
WY: Yack
These are just a common set of fabric acronyms to name a few. It's handy to keep a note of them for when you are creating your Tech Pack or sending out a general enquiry to your garment manufacturer regarding your fashion products.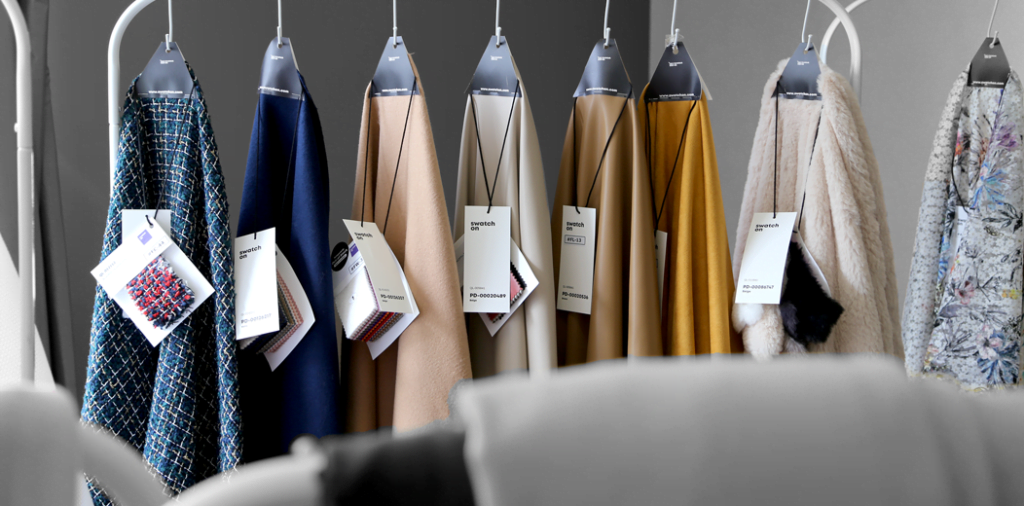 Top Logistical-related Acronyms:
Whilst it may seem like a pretty heavy task of learning acronyms within different sectors, it's good to get your head around logistic acronyms also, this may be handy when speaking with fashion buyers.
BOL – Bill Of Lading: A document issued by a carrier to acknowledge the receipt of goods
CIF – Cost, Insurance, Freight: an expense paid by a seller to cover the cost, insurance and freight against the possibility of any errors (such as loss or damage to the product) that happen during the transportation of the products.
DDP – Delivery Duty Paid: a delivery agreement where the seller have responsibility for the goods until the buyer transfers the goods to the destination port
FAK – Freight All Kinds: A pricing category that groups different types of freight into a single class
FOB – Free On Board: when the buyer takes the delivery of the products being shipped to it by a supplier, once the products leave the suppliers shipping dock
POS – Point Of Sale: where a product is passed from the seller to the customer
TQM – Total Quality Management: management approach to long-term success, assessed through customer satisfaction
We hope that this article has covered the most important acronyms for you, that will come of use when communicating with all assisting stakeholders for your fashion business. Refer to this as your own 'fashion communications manual' and you will soon get the hang of all they key acronyms.