There had been a multitude of big fashion trends last year, and in this article we take a look back to some of summers biggest trends to see where we may be heading for Summer 2022.
Prairie Dresses
With the rise of Cottagecore fashion (think Victorian English countryside, picnics, and flowers) thanks to platforms such as Tiktok and Instagram, prairie dresses might have taken the title for the biggest trend of summer 2021.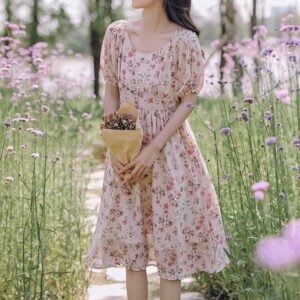 Prairie dresses consist of long, floaty silhouettes made of materials such as linen, cotton, broderie anglaise, and tulle. Usually featuring lighter base colours such as whites and creams, as well as pastel florals, and bolder neutral checks. They are adorned with ruffles, lots of layers and usually feature puffy sleeves and fitted waists.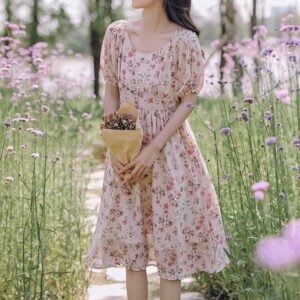 Dresses are always a staple for Summer – but this delve into prairie seems to be coming full circle to the retro embodiment of the season.
The reason these dresses always come back on-trend could be down to how universally flattering and timeless they are – looking good on the majority of people. With a variety of styles and patterns to fit everyone, it is likely we will see these constantly throughout the summer months.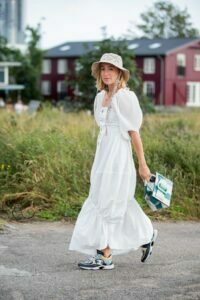 Although stemming from the past – modernisation through TV shows such as Bridgerton (which has undoubtedly popularised the trend) is evident, and many fashion brands have embraced the trend. The above example showing how they can be styled with current bags and trainers and will therefore seamlessly fit into many people's wardrobes.
Crochet
After a year of lockdowns that have pushed people to get in touch with their crafty side, crochet seems to be the next big thing! Usually associated with the older generation, crochet has become much more mainstream over the past few months – with many seeing the potential to create amazing things from accessories to garments.
Making your own clothes is something that many people are starting to get into, with sustainability and ethical fashion at the top of a lot of individuals' priority lists. Crochet is an extremely accessible way to start doing this – with lots of simple tutorials online with guides on how to make things from bucket hats to crop tops.
If you want to get involved with the trend and aren't interested in learning how to crochet, however, there are still plenty of options! Brands have seen the rise in DIY fashion and decided to hop on the trend, producing a whole range of crochet items.
One of the most featured items last summer was the crochet mini dress from Zara, who had been getting a lot of their inspiration from 70s colours that season. The dress is the perfect way to try out the crochet trend whilst still looking current and cool – and it can be seen all over Instagram and Tiktok already again.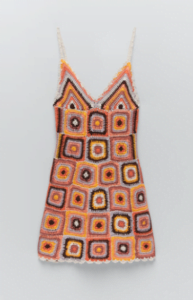 Metallics
Moving into the season where finally we can start getting back out and about, it only makes sense that we would want to stand out. This means that eye-catching metallics are back, with the opportunity to make a statement whilst out for dinner or drinks.
Metallics do not have to be garish – and this summer trend features more of the neutral palette of metallics, such as greys and pastels. It can be seen on evening jackets, pleated midi skirts, and accessories such as shoes and bags.
The pretty sheen of metallics makes any outfit shine, and the trend will likely continue on into Autumn/Winter, so you won't have to worry about the longevity of your purchase if you decide to buy into the trend.
The benefit of this trend is that metallic shoes and midi skirts were popular not so long ago – which means that there will be plenty of current items available on second-hand sites such as Depop and even in your local charity shop. This means you can have fun trying it out without contributing to over-consumption.
Orange
More specifically – bold, warm oranges. Orange is not normally the 'it' colour, however, in 2021, there was more call for bolder choices which means that it is oranges time to shine instead of the usual yellow or pink.
It will be featured in both womenswear and menswear, and some key fabrics include satin, jersey, and cotton. The trend is quite self-explanatory and is not something that will go out of style quickly, so if the colour calls to you, then make sure to try it out.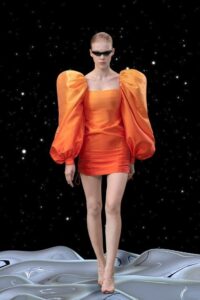 Scarves
The final big trend from Summer 2021 is scarves. Scarves are definitely not a new thing and have been making their way into mainstream fashion for some time now. You can usually see influencers sporting scarf tops and tying them around their designer handbags – yet before now they were not a massive thing for the general public.
Scarves being repurposed into crop tops look amazing but are usually just impractical and lead to outfit mishaps (which nobody wants). So the trend has led to new innovations within the industry, including scarf tops with sleeves and bandeau tops.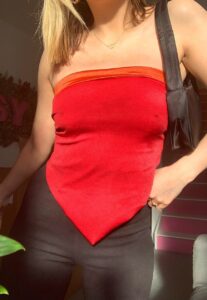 This style is an amazing way to look chic and effortless, and is the perfect addition to your summer wardrobe!
No doubt we will continue to see these trends this year, as some styles are timeless and continue to rock. We hope this gave you some inspiration! So, which style will you be flaunting this summer?  
For more Seamless Source blogs click here.