We had a talk with Svilen Valentine, co-founder and CEO of Size Me Up
,
a digital AI Technology company helping fashion retailers to provide the right size of garments for their customers to understand their business and their long term goals.
A digital AI Technology tailor for online shoppers
In this digital age, online shopping is convenient. Brands offering free return services has made it even easier, however, it comes with an environmental impact.  Hence, the app "size me up" aims to promote sustainable ways to purchase garments online.Size me up app is a new digital sizing tool that is an AI technology powered digital tailor for online shoppers, which helps the customer find their right size by just calculating measurements and uploading 2 photos, which saves the hassle of doing returns and reduces environmental impact at the same time.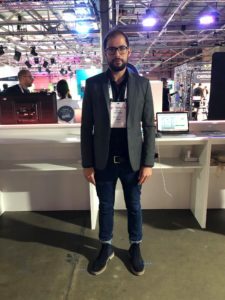 1. Who are you and what is your business?
My name is Svilen Valentine and I am one of the co-founders of Size Me Up. Our business is a SaaS platform which enables shoppers to get the right size of clothing by inputting two images of themselves (front + side) and their height (in cm or inches).In return, the shoppers receive their measurements (7 key body measurements) which are matched to the sizing chart of any retailer or article of clothing. To summarise, you should think of it as an AI technology powered digital tailor for retailers.
2. What is your role in the business?
I am a co-founder and current CEO of Size Me Up. I would say being a co-founder means you do a bit of everything in the business. There is nothing I am not involved in and nothing that I do not give my input into. That is probably what I enjoy the most about Size Me Up. No two days are ever alike. I also have the pleasure of working with two of my best friends on a daily basis.
3.What sparked your interest in developing the 'Size Me Up' App?
A few years ago (3 to be exact), my friend Yan and I were sitting around having a chat and one of us had an interview coming up. I think it was me. I did not want to go to the shop, so I thought there must be an alternative way to get a suit. I browsed a few different retailers online and noticed the complexity behind getting a good fitting suit. There were guides, charts and inputs galore, all way too complicated and time-consuming.What came next was a 3-day working session where we did research and reached out to our existing network looking into whether there was a company doing anything AI technology based. At the time, there were very few competitors in the space. That is when we decided to jump on the idea and began developing our own tech.
4. What is the mission of your company?
I am going to answer this question in two parts, the mission of the team and the mission of the company.
Team mission:
We want to instil a mindset in our team and our customers that is based on two principles:
Our product needs to do exactly what we say it does. For us right now, that means shoppers that use the Size Me Up mobile app will get the right size clothing. No excuses!
Our product needs to be simple to use. We work rigorously to reduce steps, minimise clicks and ensure that our process for receiving the right size is as simple as it can be.
Company Mission:
Our mission is to generate a tangible benefit for the retailers we work for as well as their customers. However, its not about the money or revenue for us. The real benefit is a sustainable way of shopping.
Size Me Up will help shoppers reduce the number of items they purchase and the number of returns they send back, which positively impacts the environment by ensuring a smaller carbon footprint.
We want to show and educate shoppers that they do not have to purchase 5 sizes of the same item and send 4 back when shopping online. They can purchase 1 and know that it will fit them just right just by using our AI technology system.
5. Who are your customers?
We currently have three small online retail brands that we work with on almost a daily basis. There are a few more that we are in conversation with and will begin integrating our system for their business within the next few months.We started actively approaching customers over the last two to three months. Before that, we were exclusively focused on building our technology. It took us about two and half years to get our AI-based tech to a place where we were comfortable in approaching potential customers.
6. What was your previous experience before starting your company?
A variety really. Fields of experience: Sales, project management, programme management, business analysis, continuous improvement, customer experience, front-line, product design, some accounting and finance, some marketing and a few more.Industries: Start-ups, construction, utilities, and semi-conductor manufacturing and assembly.
7. What has been the biggest career highlight so far?
This is a tough question. I have delivered digital projects across an 80 person team and numerous senior management level stakeholders and yet…I would say Size Me Up. It is extremely rewarding building something from the ground up with unproven AI technology in an industry where I have limited experience. We have had to establish a network of resources, a network of customers, understand the market, target our product, identify suitable mentorship, adapt our tech about a million times, and endlessly improve and troubleshoot.Although we are small, I cannot be any more proud of what we have achieved given our limited resources and team size. Each one of our team members is a warrior and they battle complex problems and issue on a daily basis. We are extremely adaptable and I feel we can solve any problem given enough time and resources.
8. What excites you about the fashion technology industry?
I think the fashion industry is ripe to be swept with tech innovation. I have seen a massive push from the events I have attended over the last few years and the constant news about digital innovation in the field.Fashion is something that is in the back of everyone's mind (after all it is the first thing we see when we meet someone for the first time) but I feel the industry as a whole has been slow to adapt to the tech revolution. This is now changing at a rapid pace.I was fortunate enough to see the CEO of Tommy Hilfiger present live last year at Web Summit. I don't remember his exact words but a statement that stuck with me was something of the sort… "All fashion companies will have to be technology companies in the future." That not only inspired me but also positions Size Me Up and all digital innovators in the fashion industry to succeed in the future.
9. Who are you currently inspired by?
Oh man, that's a good question. I could do the cliché answer and pick someone famous, but none of those individuals has impacted me in the same way as one of my family members.My Dad is an absolute hero (he would be Iron Man for sure) and the person that has inspired me the most throughout my life. He is an Electrical Engineer and has worked in various large corporations in Silicon Valley over the last 30 years. He is an immigrant to the United States and has worked for everything he has achieved. My values and mentality come from the way he has brought me up. I still consult with him on a regular basis on anything design or tech-related. Even though he lives in San Francisco, I Skype him weekly.
10.What are your company goals for the next year?
We have two goals for the next year:
Achieve a tangible benefit for our customer base.
Find our first investment partner.
After we achieve those two goals, I want to grow our team and bring on more of the same great people as we have now.
If you're looking to contact Svilen or  Size Me Up,  you can contact them via:
Svilen LinkedIn.
Size Me Up LinkedIn.
Size Me Up Website.
You can also
contact us
directly @chanodil to find out more about how you can incorporate AI technology into your brand.