The sports bra is around 42 years old and is still an effective athletic undergarment used by
woman. Over the past few years, the sports bra has also been made to be seen as a
'fashion' statements, besides its useful functions and comfortable factors. The sports bra
growth rate has out-space other styles of bras for the past few years and continues to be a
essential garment in a woman's wardrobe.
The Story of Nike
Well established brands such as Nike, Adidas and Gym Shark are all known to sell
best-selling sports bra, and they don't intend on stopping anytime soon. In-fact, the making
of the sports bra is getting more and more stylish and innovative as we speak.
"It is the most important piece of apparel for the active woman — a good one enables
women to play sports, and sports can give women confidence in life," -Janett Nichol, VP of
Apparel Innovation.
The sports bra has a pretty big job; it needs to create comfort, minimise bounce and avoid
causing tissue damage during exercise- the creation of the sports bra is a lot more
complicated than you think!
In 2012, Nike released the Flyknit Bra with the Flyknit Racer. It is a digitally-engineered
knitting process, best known for its lightweight properties, formfitting and almost seamless
shoe uppers. In recent times, this technology is used largely across Nikes footwear; an example
of this is the Epic React running shoes. As stated on the Nike website, taking the Flyknit from
the foot to the body took over 600 hours of testing from various engineers and designers.
"The goal of the Nike FE/NOM Flyknit Bra was maximum support and comfort that would
allow women to feel and look amazing, while doing anything they choose," – Rendone.
The bra itself is made from ultra-soft nylon-spandex yarn that creates that ultimate
sculptured fit to your body whilst creating a seamless feel with the two single-layer panels.
The Flyknit bra also has encapsulation properties with compression properties to ensure
that the bra is offering the best support, comfort and shape with additional components
such as wires, pads and elastics. The Flyknit Nike bra is 30 per cent lighter than any of their
other bras as is uses a lot less material and seam-work, making it innovative and sustainable.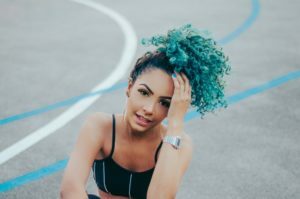 Comfort is Key
Some would agree that we are in the process of an undergarment revolution. Woman want
comfort over cleavage, which makes the sports bra a special item within the gym sector. An
NPD survey found that 46 per cent of millennials who wore a sports bra within the past
seven days decided to incorporate it into their daily wardrobe. That said, it is safe to assume
that sports bras are a key best seller within the fashion industry, but especially within the
world of gym-wear.
"Comfort is a dominant theme throughout the fashion world, and today's bra consumer,
especially Millennials, is seeking both physical and personal comfort," -Marshal Cohen, chief
industry analyst, The NPD Group, Inc.
As mentioned previously, the sports bra came into fashion as a functional item. However,
over the years the bra has turned into a fashionable statement piece. The brand Lululemon
itself created a whole line of sports bras for streetwear, which proves its versatility.
The History of the Sports Bra
2,500 BC: With an attempt to create product to hold the breast in place and provide
firmness, woman in Ancient Greece created the Apodesmo- a band of linen to wrap around
their chest
1820: The bust bodice was created as an undergarment for empire-waist fashion trends
1911: Fashion designers created the "sports corset", traditionally wired with metal, this
corset was made with elastic
1914: Mary Phelps-Jacobs patents the first bra. In other news, the tango craze influences a
corset made for the pure purpose of dancing
1915: A corset was designed primarily for the skating debut
The birth of the sports bra came into practise when some students from the University of
Vermont realised that if nobody was going to design a solution for the painful breast bounce
they experienced themselves (whilst jogging), then they would have to create something
themselves- essentially, if the problem won't get fixed, you got to do it yourself! This moves
us on to 1977 where Hinda Miller and Lisa Lindahl called a friend called Polly Smith (who
works in the universities costume department). After some tricky attempts, the three
females created a prototype of two jockstraps sewn together.
A Final Note
Creating a bra is not simple. The process of a sports bra with the ultimate support is still in
works, and apparel brands are still working on creating the best sports bra that provides
comfort and ease in every aspect. Despite the hours of research that goes into this, the
balance between controlling the 'bounce' per say and making the sports bra comfortable is
still hard to achieve all in one. You also need to have other considerations, like the sweat
support, straps, slippage, fit as well as wanting it to look appealing, therefore, it is safe to
say that producing an innovative and functioning sports bra can be proven quite difficult and
there are a lot of design requirements that come with it.