You've mastered your fashion design ideasand now you're ready to get in-touch with clothing manufacturersand hope that they turn your designs into real life products.
Once you have found a suitable clothing manufacturer for your brand, you want to ensure that you have clear and concise communication with them so that your ideas are translated correctly. Sending some rough sketches you have out to your garment manufacturer won't quite do the job. If you already come from a fashion background you may have heard the terminology 'Tech Pack'. If not, read further to identify what a Tech Packis and how it will be useful to you in the production processfor your fashion brand.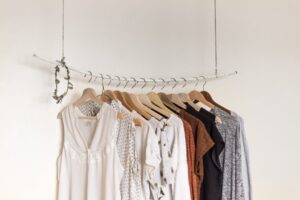 What is a Tech Pack?
A Tech Pack is an informative packet of design details (created by the fashion designer) that are given to the pattern maker after you have completed the design sketches of your garment- to simplify it; it is a detailed documentation of your designs. The Tech Pack should provide all the necessary components needed to construct your fashion design.
By documenting everything, you as a fashion designer will have complete quality control over your ideas as it is developed into a pattern pieces that can be produced by your clothing manufacturer.The Tech Pack is required to be as detailed as it can, it should cover your whole design process. Your Tech Pac should include; information about the measurement, sizes, colours, techniques, fabrics, fibres, sketches, trims, finishes, technical drawings (preferably made on Adobe Illustrator) and any other additional notes- the more the better as this will reduce the risks of any potential errors! The more detail you go into, the easier it will be for your pattern cutter and it may even fasten the production process, so this is great if you are on a time schedule!
Why you should have a Tech Pack:
By including as much in-depth information as you can, the outcome is more likely to be accurate to your original fashion idea. This will save you a lot of time and money as you won't need to re-produce your products, so don't be afraid to go into as much detail as you want in your Tech Pack.
It is important to have a Tech Packbecause not only is it general a requirement, but it also makes it easier for you in the future as you will be able to translate your designs clearly. The more often you create Tech Packs per design, the easier it will get! Most pattern cutters and manufacturerswill require you to have a Tech Pack, so if you're unsure on how to create one, check out our article on 'How to Create a Tech Pack'.
Another advantage of having a Tech Packmeans that your pattern cutter and garment manufacturerwill not keep having to contact you about any design specifications. By giving your pattern cutter and manufacturerthis concrete guideline, you will come across much more professional and will likely have a good relationship with them; this will be handy for the future when you want to further-develop your fashion designs- and if you're lucky, you might even get a good deal from your garment manufacturerfor your next collection!