The fashion industry is always evolving, not just in terms of design, but in terms of the
technologies it uses to keep it processing. It is important for the fashion industry to be as
digitalised as it can, as this will help it to move faster with the ever-changing trends it has.
The impact of technology in our day-to-day lives is undeniable. Customer software
technology has become a massive part of the fashion industry technical trend and it intends
to become more and more innovative into the near future.
1. Mobiles in Fashion
It is likely that you have at least one tech gadget, and that probably is a smartphone. Well, a
smartphone is in-fact a big factor in ecommerce. Most consumers are big on online
shopping where payments are made digitally. It's been proven that shoppers prefer
shopping online as it is faster, easier and hassle-free. The fashion industry has responded to
this behavioural consumer change and focused on the development for mobile applications,
creating applications that are easy to use so that customers can make purchases online.
An example of this is Instagram's shopping feature that makes shopping simple, by clicking
on a liked item that can then direct you to the fashion products page so you can make your
purchase. Brands such as Pretty Little Thing and Missguided all have these features as they
are primarily an online store, so it is essential that they have this feature. As you can
imagine, these days it is all about simplifying the process so that it's as quick as possible and
convenient for your customer, this is a great marketing proposal to have as you're more
likely to drive sales in your fashion business, therefore it is important to focus on mobile
technology within fashion.
2. Tech-Inspired Fashion Shows
Fashion shows still play a big part, and it is what most high-end fashion designers work
towards throughout summer and winter. With the high pressure of each fashion show being
modern and memorable, designers have decided to incorporate technology on the runway
through things such as; holographic projections, 360-degree panorama, 3-D motions and
much more. There is a variety of custom software used in programming the lights, music
and other gadgets throughout the fashion show, proving that technology plays a huge part
in succeeding the brand.
You'll also find that most recently, fashion shows can now be streamed online through a ton
of social media platforms such as Facebook, Instagram, Twitter, or even Amazon Prime, an
example of this is Rihanna's Fenty X Savage show, where she showcased her new lingerie
collection- this was recently streamed on Amazon Prime.
3. 3-D Print Tools and Software in Fashion
Even though online shopping is much more popular than going into a physical store, a big
challenge that designers and fashion brands face is trying to sell the 'look and feel' of the
garment, as viewing it online can be deceptive- how can you convince a customer to
purchase an item without them being able to feel the texture of it or try it on?
3D custom software development has recently come in, that enables virtual browsing,
visually impact-full prints, and richly textured fabrics. Retailers can also collect data metrics
to enable them to analyse the consumers buying trends. By having the technology to
analyse their consumers behaviour and buying patterns, that can strategically formulate the
right fashion products that will sell for the future.
Virtual / Augmented Reality (VR)
In our recent article we discussed how 'Ai is Reshaping the Fashion Industry' – but what is
VR?
As mentioned before, it is easier for customers now to browse through products and
purchase it through the click of a button. However, many retailers have face major backlash
from customers who ordered items that didn't match the online material they viewed the
product on.
However, with the movement of VR platforms, we can now merge the physical and online
world of retail. An example of this is the 'try on avatars' which are taking a big hit in the
world of fashion. Apps such as the DressingRoom are using AR to allow online shoppers to
try on outfits on an avatar- they can even customise the measurements before committing
to buying the product. Technology freedom like so, allow customers shopping experience to
be clearer and trustworthy. It will also add value to the retailers, as they can fully assess the
consumers used of their site which they can then customise their personal experience.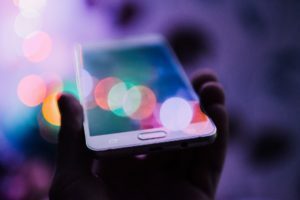 4. Mobile PLM (Product Life-Cycle) within the Fashion Industry
PLM in industry is the process of managing the entire lifecycle of a product; from
inception all the way through to engineering design and manufacture.
PLM plays an important part in the fashion and apparel industry. Over the last few
years, there has been a mobile version PLM created, in order to help in the
management of overall operations and logistics for global brands. As the fashion is a
fairly ever-changing and fast-paced environment, it needs constant communication
amongst various stakeholders. With the use of Mobile PLM, it is now possible to
undertake important tasks and handle workflows in realistic timing. Mobile PLM has
introduced the concept of automation within the world of fashion, this leads to
better clarity of date along with improving the management of time per tasks.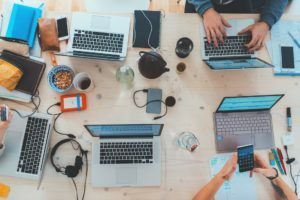 5. Beacons and Geo-fencing in Fashion
Geofencing is essentially a 'virtual fence'. It allows the recognition of when a device
enters and leaves a certain area (in this case a retail store). This technology is
dependent on smartphones, as the geofencing is enabled by the use of GPS.
The main objective of embedding technology into the fashion industry is to achieve a
customized experience to its consumers. Beacons are small sensors that are
positioned in retail stores, they basically connect to smartphones and push relevant
content in them. As a result, this helps fashion retailers to send out important
commercial content to the consumers mobile, this allows fashion brands to send out
any promotions they have such as vouchers and discounts.